Spot: The Skatepark of Iquique, Chile
Par alfathor | Publié le 21 October 2016 | Mis à jour le 21 November 2020 | Catégories : AllAggressive skating | Sous-catégories : Where to skate | 3885
| Tags : skate parc chileskate park chileskatepark iquiqueskate park iquiqueskatepark chile
Always looking for skating spots, OLS takes you once more to the other side of the world, in the middle of the desert of Atacama, to visit the skatepark of Iquique, Chile…
Presentation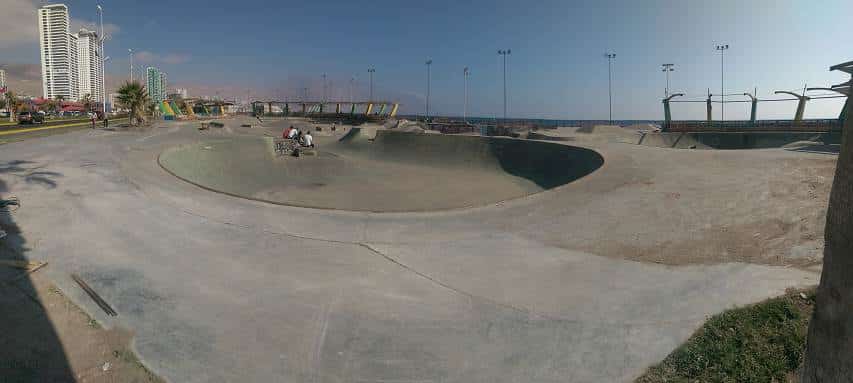 Iquique is a city of 200.000 inhabitants, located 2.000 km north of Santiago de Chile. Temperatures are mild all year long, and it doesn't rain more than a few millimeters of water per year! Iquique is placed right in-between the impressive foothills of the Andes Mountains and the powerful waves of the Pacific Ocean. Iquique is a renowned beach resort in Chile, known for the quality of its swell, which is ideal for surfing and kitesurfing. Paragliding is also very popular there. The seafront is a mix of Barcelona, Spain and Venice Beach, California, with cycle paths, palm trees and… a skatepark!

The Skatepark of Iquique
The skatepark is built on the seaside, a few meters from the waves. It is wide and spacious with generous dimensions, and suitable for all levels of practice. The local riders are mainly skateboarders and BMX riders, we didn't spot many inline/roller-skaters there. The local skaters seem to be more into skating along the beach, especially around Cavancha, a bay sheltered from the high currents of the coast.

The skatepark is made of concrete and has many areas :
open bowls
stair sets
banks with -and without- rails, walls, and extensions
volcanos
manual boxes
jump boxes
curbs
benches
On the whole, the surface is in good condition. There are a few cracks in the concrete here and there, but nothing too bad. The copings are a bit rusted, and a little wax is probably welcome.
The practice area is surrounded by barriers, and there are even sheltered stands for the public ! The concrete benches were designed for sliding, with square edges on the seats, and round copings on top of the backs.
Even the trees are protected by skateable barriers, and the bin is topped with a rail ! The Chilean have an eye for detail !

Bonus
Behind the skatepark, there is also a mogul field for dirt riding. Last but not least there are free 24/7 public toilets in the start area.
Address
Arturo Prat Chacón 9, Iquique, Región de Tarapacá, Chile

Useful Links
Visit the page of the skatepark on Spotland.fr
Auteur
Alexandre Chartier
''alfathor''
Alexandre est le fondateur et webmaster de rollerenligne.com depuis 2003. C'est un passionné de roller en général, tant en patin traditionnel qu'en roller en ligne. Il aime le patinage à roulettes sous tous ses aspects : histoire, économie, sociologie, évolution technologique... Aspirine et/ou café recommandés si vous abordez un de ces sujets !
Traducteur
Chloé SEYRES
''Kozmic Bruise''
Chloé Seyrès aka Kozmic Bruise #8612. Hardcore skater since forever. Former inline freestyle slalom champion, has switched to the quad side with derby and dance and more. Also international judge in freestyle and certified agility coach. PS: Translator and linguistics consultant in parallel life.