Testing the Risport Royal Elite Artistic Skating Boots
Based in Montebelluna, Italy, Risport has been one of the leading brands of skating boots for almost half a century. With the expert advice of our partner Interglace Paris, we have tested the Risport Royal Elite model, designed for experienced skaters. Impressions…
A High-End Boot for Demanding Skaters
Our Opinion in Short
The Risport Royal Elite boots are designed for high-level skaters who practice regularly and intensely. They provide excellent support. However, we do not recommend them to occasional skaters, who may find them too rigid.
Strong Points & Points to Be Improved
Pluses

+ Finishing
+ Aesthetically rich and pleasing
+ High rigidity providing safe support
+ Comfortable
+ Clear instep, making the leg line more graceful
+ Thermoformable

Minuses

– Period of adaptation without thermoforming
– No innovations in the tightening system, and hooks a little too small
– No "lace covers" like at Edea's
– The price is a little high
Technical Facts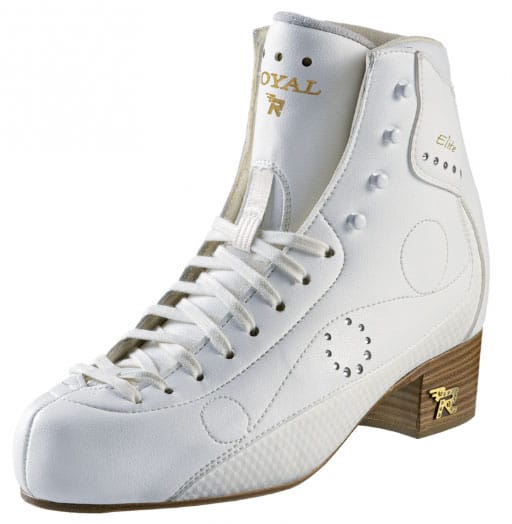 Brand: Risport
Model: Royal Elite
Origin: Italy
Launch year: not communicated
Upper: Microfiber with lateral reinforcements – breathable – anatomical design
Thermoformable? Yes
Hardness: 90 (highest index at Risport)
Lining: Microfiber with Aloe Vera treatment (antibacterial)
Available widths: AA-B-C
Sole: Single layer of natural leather
Available colors: white, black, beige
Sizes: 210-305 mm (men) and 210-280 mm (women)
Recommended use: Regular to intensive practice of figure skating and ice skating. Not recommended for skaters who only practice once or twice a week.
The Risport Royal Elite in Detail
Risport's artistic offer: ice and rollerskating
Risport offers boots for ice skating, but also for rollerskating (quad). I would advise high level skaters to choose boots designed for ice skating to practice artistic inline skating, because quad boots do not provide as much support. Moreover, the official Risport website recommends ice boots for the practice of artistic inline skating in its "boots selector" tool.
The successful design of the Risport Royal Elite boots
First of all, like for all competition models, Risport offers the boot in white, black or pearl (beige) and in several widths. Here we have opted for the white 240C model. We do appreciate the richness of the cuts and seams. At first glance, it is a boot of excellent craftmanship, aesthetically very pleasing. The elite models have been decorated with rhinestones for some time now, and this one is no exception! Let's also note that some parts of the boot are adorned with a honeycombed design, again for aesthetic reasons.
Structure / design
The structure of the Royal Elite boot is in the shape of a "banana" and goes 360 degrees around the ankle. The padded collar offers great comfort. Being a little lower than those of the RF models, it offers better ankle mobility.
The sole is made of a 4 mm single layer of leather, with an insert of ultra lightweight thermoplastic material at the heel to further reduce the total weight of the boot. The thinness of the sole also makes it easier to feel the plate. The heel is adorned with the Risport "R" logo, also finely rhinestoned.
The tongue is perforated for more breathability. It features two pieces of fabric that hold it in place when laced up.
The instep is clearer than those of the RF models, making the leg line more graceful. It's a good mix between the Elite Dance boot and the RF1.
Solidity
The Royal Elite boot is not made of leather, but of microfiber (polymer fiber). This material imitates leather and happens to be much lighter and breathable. It is, however, a little more fragile and requires skate protectors or tape to prevent any scratches.
Support
The boot is reinforced on its sides for optimal support. It has the highest level of hardness, 90. [Hardness ranges from 35 to 90 at Risport – the choice varies according to the weight, level and discipline of the skater].
Comfort
Unlike the Edea Piano boots, for example, the three-dimensional microfiber fabric of the Risport lining is, subjectively, more comfortable, and the boots can be worn barefoot (or with very thin tights) without risking getting blisters from friction. A little something extra: they are treated with aloe vera, which confers antibacterial properties.
You can thermoform them with a conventional hair dryer. This will save you the long and painful "breaking in" period!
Boots adapting to the shape of the foot
Like all Risport boots, they are thermoformable, which means they can adapt to any type of foot. Just heat them for about ten minutes with a conventional hair dryer and they will snug your foot perfectly. (See the "Custom My Risport Bag" on the Risport website.)
Whom is this model designed for?
The Royal range is designed for skaters who perfectly master their technique and who aim for a skating that is all about "finesse". Here are a few skaters using this model: Elizaveta Tuktamysheva, Rika Kihira, Laurine Lecavelier, Julia Sauter, Anna Shcherbakova, Angela Martin Mora… The men will rather go towards the RF1 model, which aims for more power.
Tightening
The tightening system runs along the foot from the toes to the top of the ankle. It is a classic tightening system with 4 hooks – no innovation in this area.
Finishing
The Risport Royal Elite boots are very well made. We found no traces of glue or improperly finished sewing.
Quality/price ratio
To acquire the Risport Royal Elite, you will have to pay an average of 400 euros, without the plates… but that is the price to pay for quality equipment!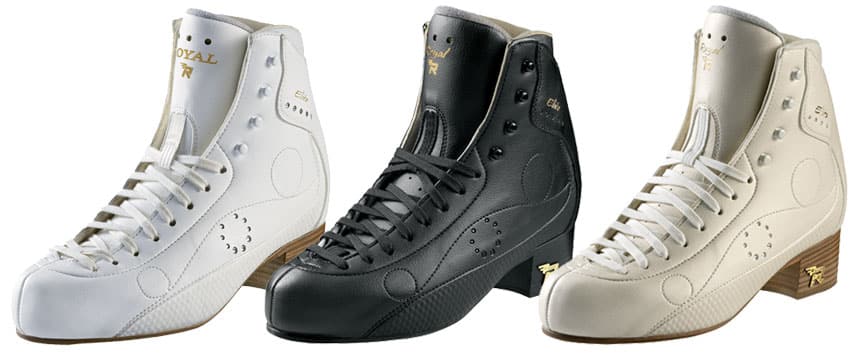 Useful Links
Auteur
Traducteur
Chloé SEYRES
''Kozmic Bruise''
Chloé Seyrès aka Kozmic Bruise #8612. Hardcore skater since forever. Former inline freestyle slalom champion, has switched to the quad side with derby and dance and more. Also international judge in freestyle and certified agility coach. PS: Translator and linguistics consultant in parallel life.