The Bont Supercell 2.0 inline frame in detail
Our opinion at a glance
The Bont Supercell 2.0 frame 4x110mm is very rigid and very precise, especially the XX-Firm version. It is also surprisingly noiseless for a carbon inline frame. Bont offers it in different hardnesses. Be sure to choose the most suitable stiffness for your use. Indeed, the most rigid model is really intended for races on perfectly smooth surfaces such as on track. The softer model will be more suitable for sinuous marathons. Endurance use is possible, but on condition that flexible and soft wheels are used.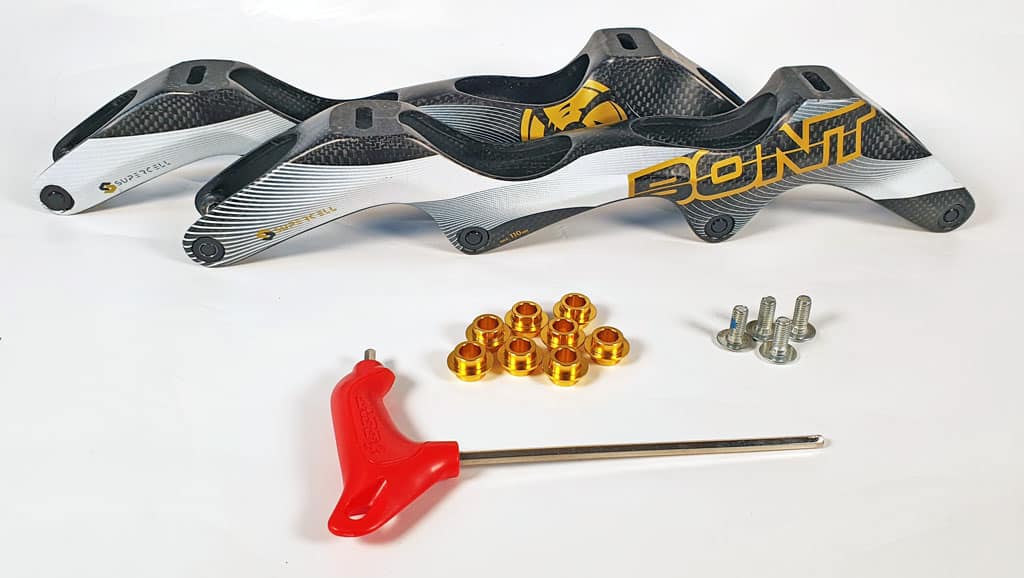 Strong points and points to improve

The racy and futuristic look
Thep Packaging
The Precision
The Silence when using
The options of stiffness

The price
Less comfortable on rough ground
Fact sheet
Brand: Bont
Model: Supercell 2.0
First release: 2019
Conception : Australia
Made in: Asia
Materials: carbon fiber and resin
Weight: 160 grams
Front deck: 49,5 mm
Rear deck: 60 mm
Available in various stiffness/finishing (blue and gold):

Firm/Matte
XX-Firm Matte
XX-Firm Gloss

Wheels diameters and frame length:

4x110mm (13.2 inches)
3x125mm (13 inches)

Stiffness: Firm or XX Firm
Public price: 399 $
Supplied with: single race axles, spacers and Allen key
Recommended use: inline speed-skating for advanced skaters and competition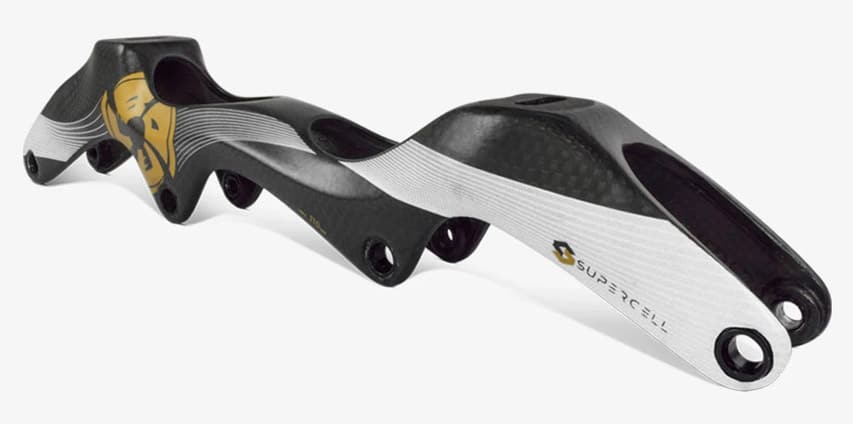 Video: summary of the test of the Bont Supercell 2.0
Presentation of the Bont Supercell 2.0 inline frame
Bont is one of the few inline skates brands to manufacture carbon inline frames. The Australian firm has launched the second version of its flagship model: the Bont Supercell 2.0 plate, available in two different colors: gold and blue.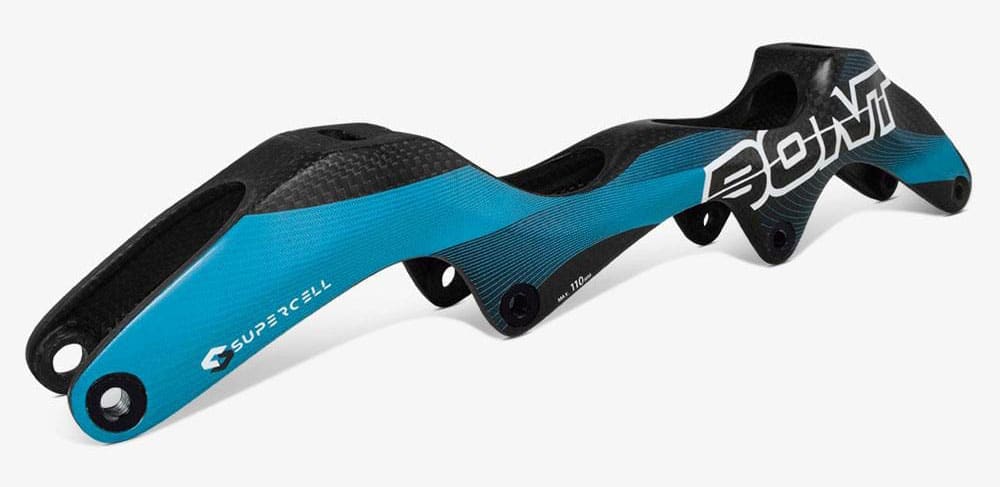 Carbon frames: a niche in the inline skating market
The main companies that have offered carbon frames on the market are:
EOSkates (France), a French Brand leader in this sector for 15 years. Its models are mainly dedicated to speed skating: 3x125mm, 4x110mm or 3×110 and 1×100 and a few models for kids.
Powerslide launched its own carbon frame in 2012-2013
Seba / FR Skates with a compact 3x110mm carbon frame dedicated to speed-slalom with the SL Carbon 310.

Hopiframe with less mature models for speed skating.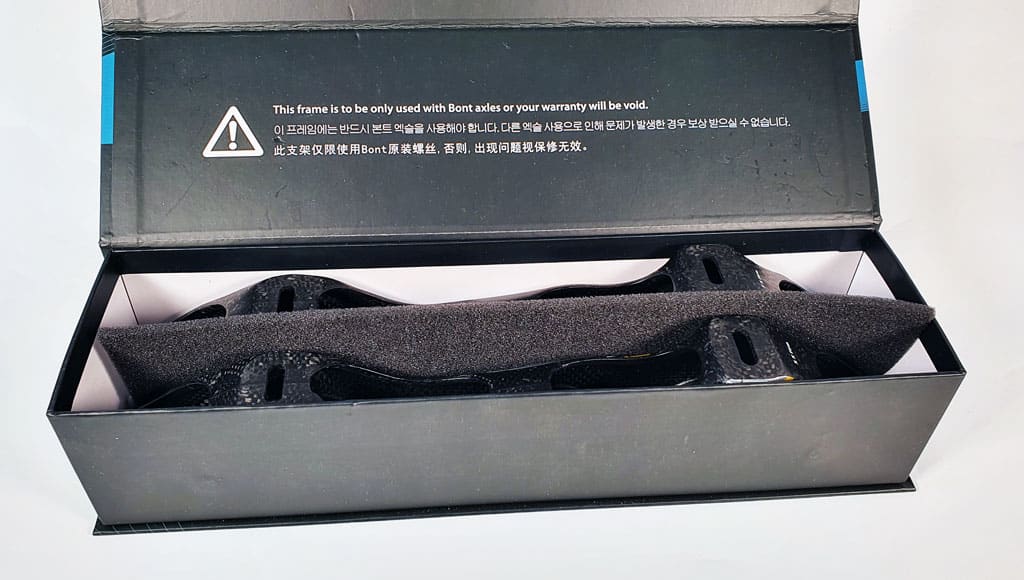 The packaging
First things first: unboxing! The Bont Supercell 2 frame is sold in very qualitative packaging: a thick and sturdy cardboard box finely decorated. In addition, the opening is done using a magnetic system. A high-end product and a superior packaging!
The specificities of the design of the Bont carbon frame
The Bont Supercell 2.0 chassis offers a design quite similar to that of traditional frames. However, Bont took into account the specificities of the use of carbon fiber: a carbon frame cannot have perfectly flat sides. Indeed, the solid sides (without "holes") and the bulges are intended to increase the stiffness and the solidity of the frame. You will notice a bulge which runs through the entire frame from the rear to the front and which gives it its lateral rigidity.
We really appreciated the futuristic look of the Bont Supercell 2.0 inline frame. It unveils light and fluid lines, enhanced by an elaborate serigraphy.

The front view reveals the absence of reinforcement bridges between the walls. Only the rounded front and rear platforms increase stiffness and prevent deformation. You will find that the frame is also slightly hollowed on the inside and that the edges are slightly curved. Here again, this technique provides a gain in weight and stiffness.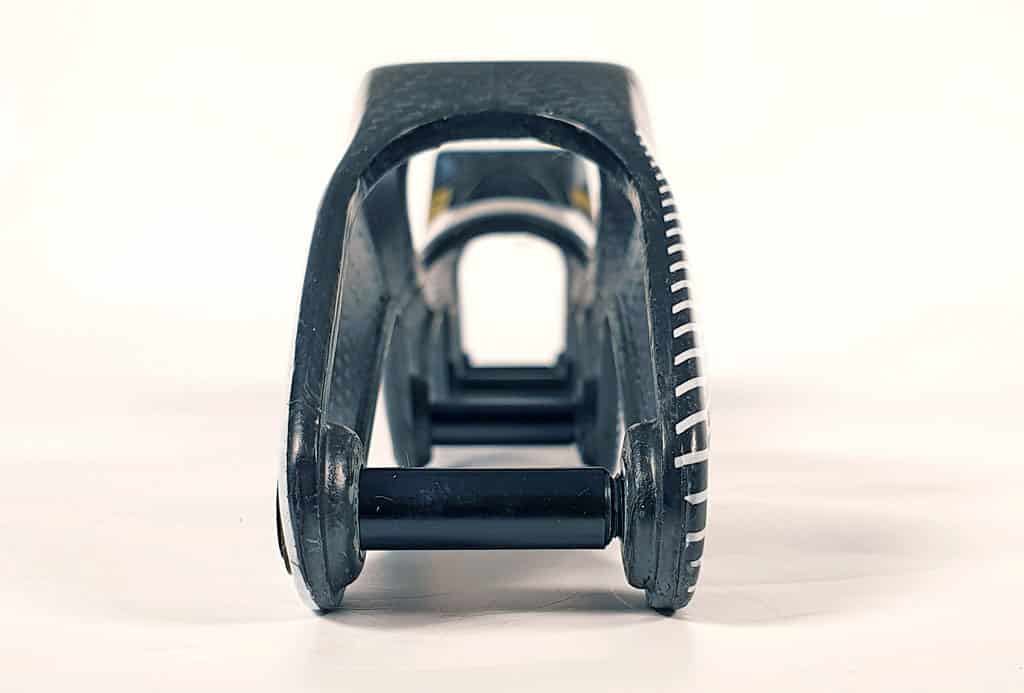 A line with various models
Bont offers its carbon frame in two level of stiffness:
'Firm' for indoor skating or track use. Indeed, frequent turns require a certain flexibility to gain maneuverability.
'XX-Firm' for smooth roads and more straight lines.
There are also two different colors: blue or gold color, and either a shiny or matte finish, depending on your taste!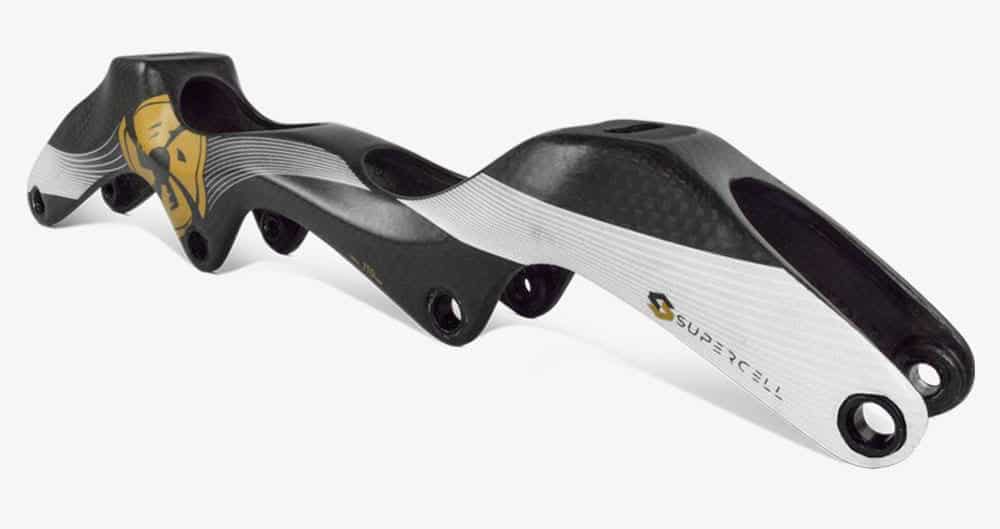 Stiffness distribution
The least we can say is that the Bont Supercell XX-Firm frames are particularly stiff. The manual compression of the walls shows a slight flexibility on the ends and a high stiffness in the central part. This behavior is a guarantee of relative maneuverability.
Maneuverability
Despite its stiffness, the Supercell remains quite manoeuvrable. In use, we did not have a feeling of a rail. This compromise is therefore rather interesting. The changes of direction are easily done.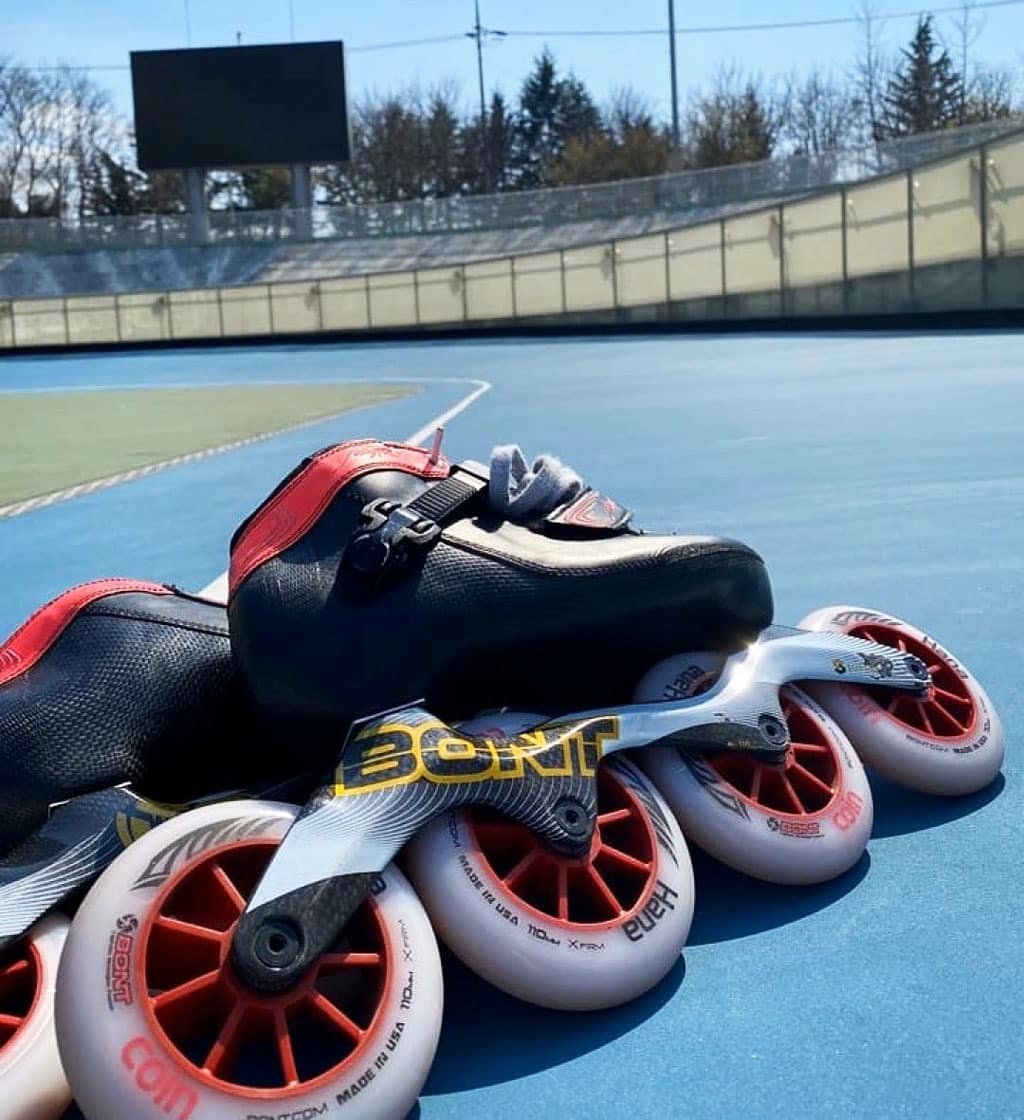 Comfort
When you choose a carbon frame, it's rarely for comfort. Skaters who skates with this material are looking above all for performance and lightness! So the Bont Supercell frame, combined with the MPC Avenger aluminum wheels, makes you feel the smallest details of the ground you skate on.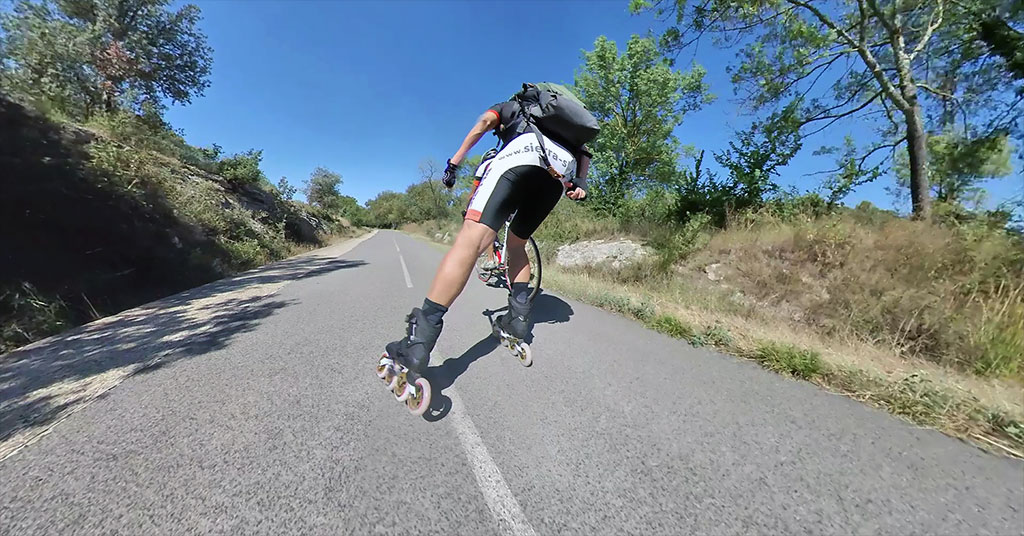 Reactivity
This setup is certainly one of the most nervous and responsive we have tested for many years. It reacts quickly to the slightest push. The starts are really easy and and the accelerations require less energy. This setup gave us the feeling of regaining more frank acceleration capacities. This is a real asset for races where changes of pace are frequent.
Finishing and value for money
Nothing to say, the finishing is perfect. Furthermore, the frame is available in various hardnesses, colors and even in mat or gloss finishing. The price of €399 the pair might seems high for most of skaters but we did not notice any sign of wear after a few months of tests. So you can consider it as an investment.
Presentation of the Bont Supercell 2.0 edited by the brand
Links
Auteur
Alexandre Chartier
''alfathor''
Alexandre est le fondateur et webmaster de rollerenligne.com depuis 2003. C'est un passionné de roller en général, tant en patin traditionnel qu'en roller en ligne. Il aime le patinage à roulettes sous tous ses aspects : histoire, économie, sociologie, évolution technologique... Aspirine et/ou café recommandés si vous abordez un de ces sujets !