Long distance custom set-up: Seba Marathon boot, RollX wheels and EOSkates 3x125mm frames
Customization is the art of mixing and matching the skate parts that you like to make a set up that corresponds at best to what you're looking for. Today, OLS presents a 100% French set-up in 3×125 mm for raid and long distance skating…
Ground-to-Ground Missile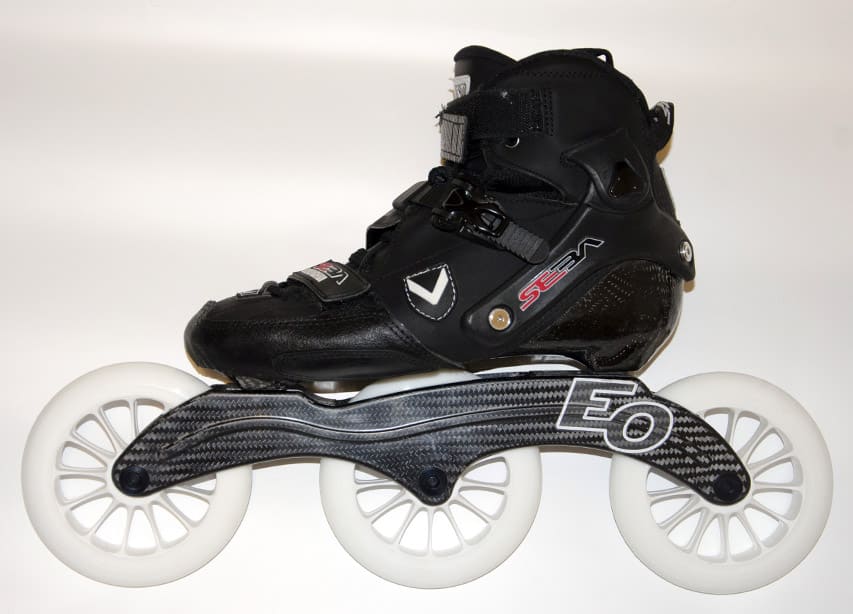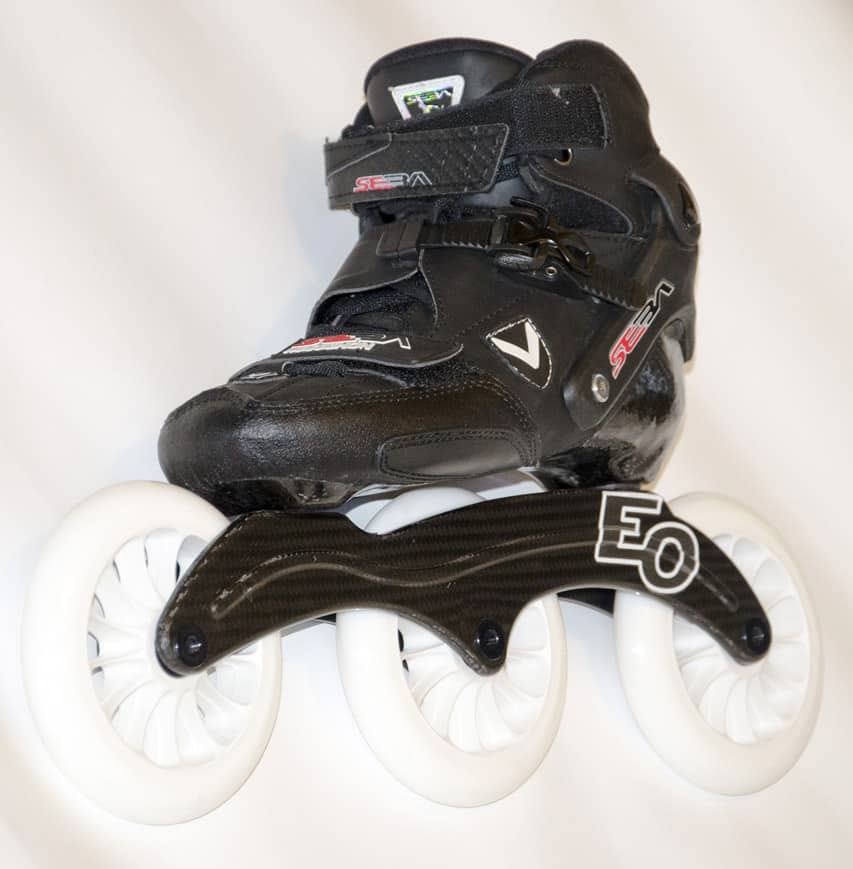 We chose to present you a set-up with parts exclusively made in France from 3 well-known brands:
The Seba Marathon boot (375€ public price)
The EOSkates 3×125 mm frame (349€ public price)
The RollX double density 125 mm wheels (25€/u. public price)
Twincam ILQ9 Pro bearings (35€)
The aim: a light skate for long distance
The initial idea wasn't to customize a 100% French set-up but mostly to find the lightest parts as possible from the models we already had to hand. With this set-up, you reach 1390 grams all included for a size 41 EU.
The set-up
We didn't meet any difficulty to set up the custom skate. However you will need EOSkates carbon wedges for the middle wheel not to touch the boot!
The EOSkates carbon frame
This frame imposed itself as an evidence with its 135 grams! Being 12.8 inches long, it is rigid, has a certain flexibility and it is very light while remaining of low ground clearance (hence the use of wedges).
The RollX double density 125 mm wheels
They logically followed in our minds. Olivier Myallonier recently released a model weighing 160 grams! The same as a 110 mm wheel. The other models on the market flirt with the 190-200 grams.
The Seba Marathon boot
This choice was less obvious but we were recently won over by its comfort. It is our only concession in the weight gain race. In long distance, the well-being of your foot is determining, since the smallest wound will stick with you the whole raid!
With use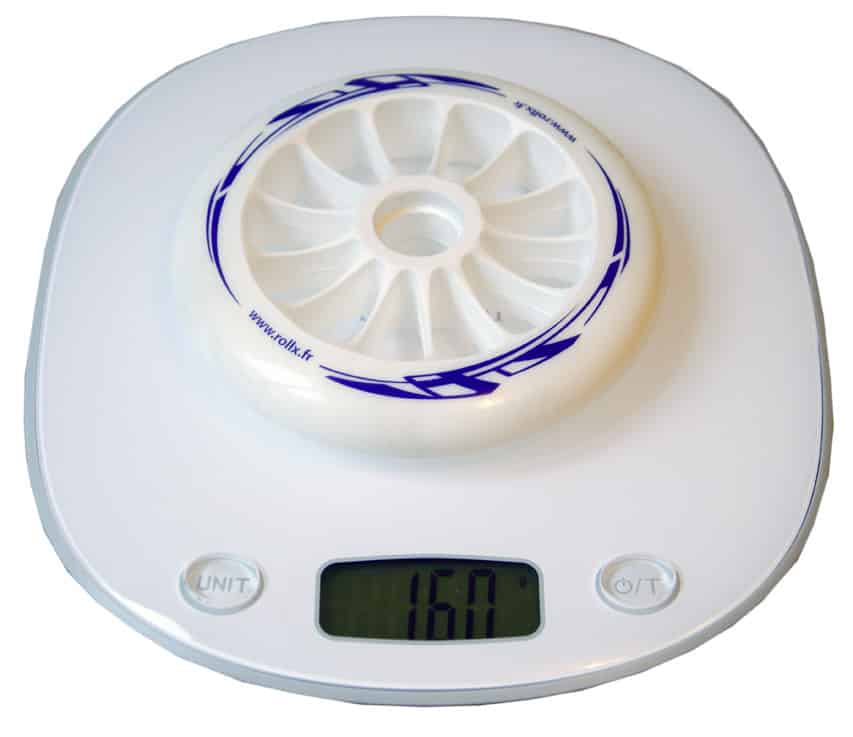 The first sensation coming out of this set-up is the rigidity of the frame, a little stiffer than the Aluminum Vi, but a little more flexible than the Triple X. It gives the impression of being longer, and yet it has the same dimensions. It resonates differently from an aluminum frame, so that you need a little time to get used to its tone.
Then comes the sensation of lightness in speed-ups. The EOSkates/RollX combination does wonders, even hills are climbed without much difficulty. You can easily increase your frequency without having the impression of wearing anvils. You will appreciate the weight gain especially in hilly areas. When you push their limits, the skates follow.
You quickly realize that you should be very rigorous about your technique. Let's be honest, it is useless to get a 125 mm set-up if you don't work on your skating. This diameter requires very long and broad strides, that imply weight bearing changes and put a strain on your equipment. It is not for duck-walkers!
Once launched, this set-up does wonders. The sensations are close to those of a speed skate, with the support of the boot in bonus. Obviously, the power transmission isn't as thorough as with a pair of molded boots, but you can push without fearing for your feet.
Variation
You can also mount this custom set-up on a Roces S-Lab base, the reactivity and handiness of which are considerable assets. Moreover, the OESkates frame is compatible with 165 and 195 mm axle spacings, to your liking. This allows you a good bunch of possibilities.
Quality-price ratio
In terms of price and according to its components, not everyone can afford it, with a total cost of 834€ (public price – around 750€ for a club price). On the other hand, it is worthwhile.
Conclusion
We appreciate this set-up a lot, it partially erases one of the main drawbacks of the 125 mm: the difficulty to speed up. A few improvements on the tightening of the Seba Marathon boot would be welcome to optimize it all. A shorter EOSkates frame in 12.6 could be suitable for smaller builds. As for RollX, they keep on working with great champions to improve their new 125 mm wheels even more. Long distance has a bright future ahead!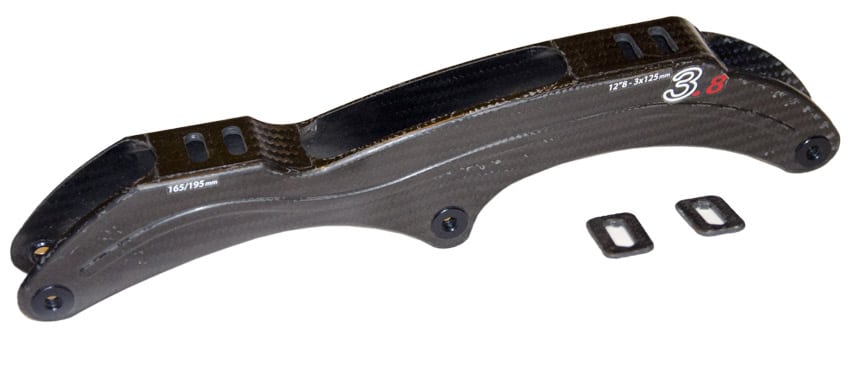 Useful links
Testing the Seba Marathon 110 long distance skate
By Alfathor
Translation: Chloe Seyres
Auteur