Using a parachute for speed skating training
Par COMMUNIQUE DE PRESSE | Publié le 27 March 2015 | Mis à jour le 3 November 2020 | Catégories : AllAll | Sous-catégories : parachute speed skating trainingspeed skating trainingparachute speed skating | 15989
| Tags : parachute speed skating trainingspeed skating trainingparachute speed skating
Silas Sport release their new training card for speed skating with the use of a parachute. Whether you are one or two, this kit will enable you to specifically work on power and improve your skating technique…
Working on your speed and power on skates with a parachute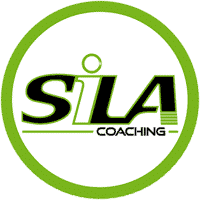 Get the SILA Parachute on the website of the brand — where you can also find all the technical details. This 48 inches parachute adapts to suit all skaters, tall or small. It is just as suitable for powerful seniors as for U15 developing girls.
Objectives
Reducing your reaction time:
Improving your technical efficiency at the start
Improving your top speed thanks to better weight bearing and transfer, and developed muscle power
Working on your speed in a fun way
Improving your core strength with the use of the parachute
Why doing resistance speed training?
Working on the quality of your weight bearings and transfers
Because of the resistance exerted by the parachute, your weight bearings should be more efficient than usual in order to generate and/or keep a high speed.
Diagram of a right foot on the inside edge while pushing >>
The key to good weight bearing
Brief
Strong (maximal)
Under the hip
Developing your muscle power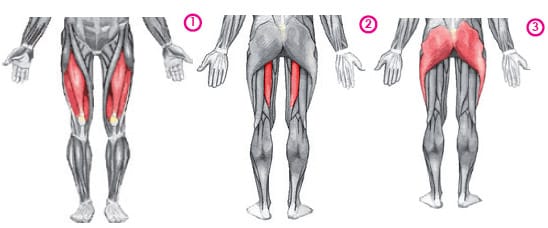 The resistance exerted by the parachute loads the concerned muscle groups even more than usual. It is specific workout, done while skating.
Of course, other muscle groups also come into play during the action of skating. This very simplified diagram shows the main muscle groups activated while skating.
Main muscle groups:
Quadriceps
Adductors
Gluteus Maximus (buttocks)
Specific core workout
Because of the air rushing into the sail of the parachute, the latter may slightly move sideways in the back of the skater.
In order to resist those moves, the skater has to stay strong and with toned core muscles. It is a good means to work on your core strength and quality on skates.
The core muscle group is made of the rectus abs (center) and the oblique abs (sides).
Back
Lumbar muscles (lower back)
Front
Rectus abdominis
Oblique abdominis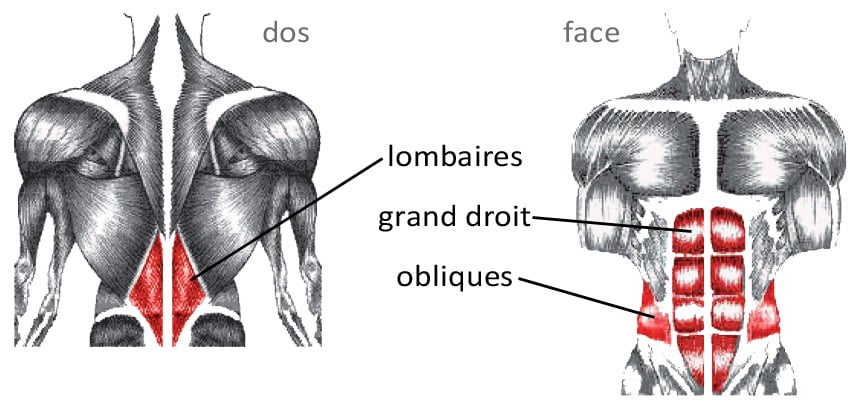 Working on your speed in a fun way
Without looking for a scientific interest to that practice, it is true that resistance speed training with a parachute is not common and quite original. It may help break a certain monotony.
1-skater drills with a parachute
Standing start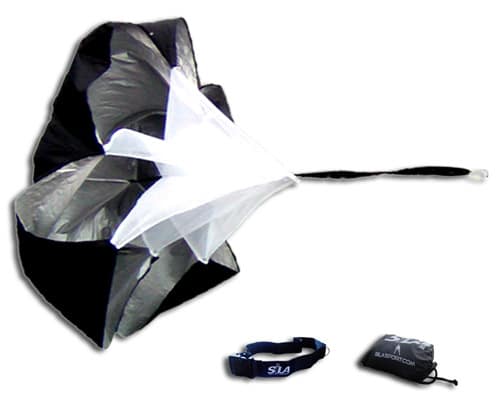 Go for a standing start on approx. 50 m with a resistance generated by the SILA parachute.
Main focuses:
Quality of weight bearings
Speed ability
Muscle power
This drill can be done alone, placing the parachute on the ground, on your right or your left.
However, a second skater can hold the parachute, already stretched, for a faster -and consequently more efficient- tensioning.
Variations
Against-the-clock starts, 300m-like.
Whistle starts, 500m-like.
Varying the start distance
Taking times, even with a parachute, to compare them
Rolling speed-up
With rolling speed-ups, you focus on your ability to keep your maximum speed. In this drill you fight against the parachute's resistance for a distance of 50 to 200 m.
Main focuses:
Quality of weight bearings
Keeping of your maximum speed
Muscle power
Quality of specific core strength
The skater holds the parachute in their hand and release it at the point defined by the coach. You can work in corners, straight lines, U turns or complete turns.
Variations
Releasing the parachute before or after the corner according to your training focuses
Taking times, even with a parachute, to compare them
After 50 m of heaving, detach the belt and keep on accelerating on the last 50 m.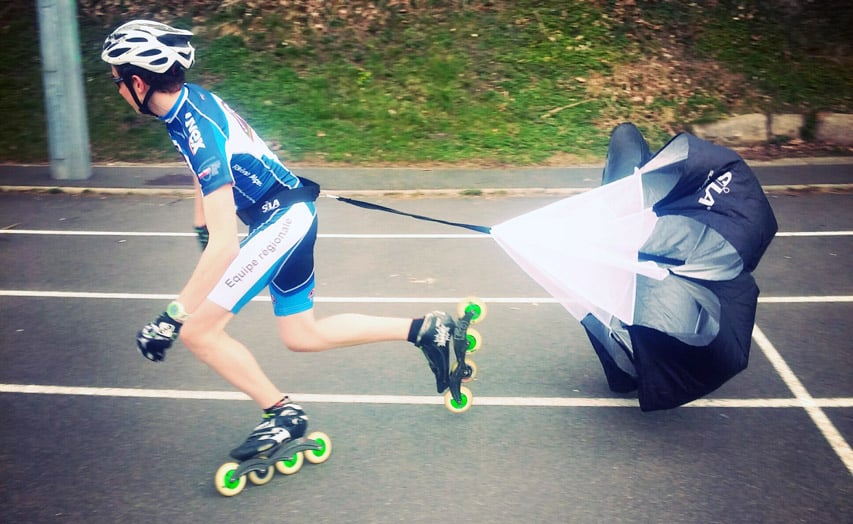 Drills with 1 parachute per skater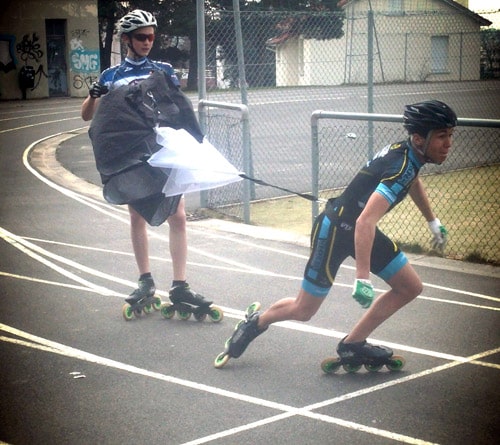 All the 1-skater drills can also be done with 2 skaters, in order to put them in direct competition with each other. Choose two skaters of same level to do one-on-one match races.
A few extra tips
Whatever you do, make sure that the two skaters are far enough apart not to tangle their parachutes during the drills. For rolling speed-ups, limit drills with 2 equipped skaters!
In that case, favor match races with both skaters at a distance, like chases.
Make sure you are warmed up enough before using the parachutes
Do a few starts and accelerations without resistance
Vary situations of use: resistance speed in a straight line, in a corner, in a U-turn
Finish your session with active cool down
You can allow your skaters to speak in the pack for group cohesion after an individual session.
The pluses of SILA Sports
– The SILA parachute kit is available on www.silasport.com
– Not enough resistance with one parachute? Add a second one to the same belt with the snap hook system.
– After a good warm-up, resistance speed corresponds to the theme of a complete session! We would advise the repetition of a dozen sprints with resistance per session max.
Useful links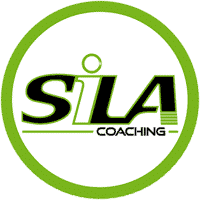 The Learning section of Speed Skating on OLS
Download the SILA Coaching Concept presentation card
Download this training card in pdf
By Sila Sport
Translation: Chloe Seyres
Photos: Sila Sport

Auteur
COMMUNIQUE DE PRESSE
''Press Release''
Le communiqué de presse est le meilleur ami du journaliste en panne d'inspiration ! Merci à l'ensemble des clubs qui nous font parvenir des informations sur leurs événements à venir, leurs résultats de matchs ou de courses et bien d'autres choses utiles à partager...