Roller-dance tutorial: "Side Step"
Par Chloé SEYRES | Publié le 23 March 2020 | Mis à jour le 3 November 2020 | Catégories : AllRoller-danceAllRoller-dance | Sous-catégories : chloé seyresRoller-dance tutorialSide StepSide Step roller dance | 2361
| Tags : chloé seyresRoller-dance tutorialSide StepSide Step roller dance
At home for a while, I made room in my kitchen to rollerdance! Since I am limited in space, I started to list variations of basic moves and build up from there… My first session became this tutorial on the "Side Step".
SIDE STEP TUTORIAL (Sign o' the Hill) by KOZMIC
1. BREAK IT DOWN
The Side Step is made of two phases: (1) Open & (2) Close.
OPEN the free leg to the side.
Bring back both legs together to CLOSE. This a RESET, as you go back to the initial position.
When you are in the (1) OPEN position, your bodyweight should stay on your supporting leg, and not transfer to your free leg. To make sure about that, only put your toes on the floor – and not your whole foot.
Your bodyweight goes back in the middle once you have (2) CLOSED. Then you can choose which leg you want to lift next.
In dance, we usually create 8-COUNT ROUTINES (made of 8 beats). As long as you keep that in mind, you can play with this move – repeating the same side or alternating sides as you wish – as well as play with the rhythm: try holding each position for 2 beats instead of 1, for example!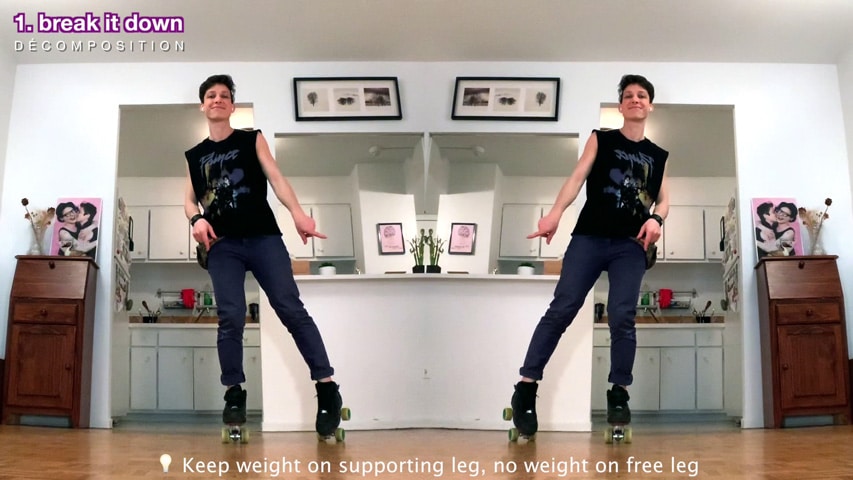 2. WUTHERING GROOVE
Once you have assimilated the concept of the move, it is time to add some groove! Here are some style elements you can use and/or combine:
a. Twisting
Of the free leg. Turn your toes inwards, and the whole chain going up: toes, knee, hip, shoulder inwards.
b. Pumping
Of the supporting leg. Bend and straighten your leg to give a bounce. Most of the time, you bend your supporting leg each time your free leg lifts and lands, and straighten it in-between while transitioning:
| | | | | |
| --- | --- | --- | --- | --- |
| INITIAL POS. | transition | OPEN | transition | CLOSE/RESET |
| bent | straight | bent | straight | bent |
But you can invert the pattern on purpose to break the flow!
| | | | | |
| --- | --- | --- | --- | --- |
| INITIAL POS. | transition | OPEN | transition | CLOSE/RESET |
| straight | bent | straight | bent | straight |
This concept is hardly touched on in this tuto (and even less in the video!), but let me know if you want more details on it!
c. Foot change
Until now, we were changing feet once we had (2) CLOSED, when our feet were gathered in the middle and our bodyweight on both legs.
For a little surprise effect, let's change feet at (1) OPEN. Once you are in the open position, make a micro jump to change supporting feet and land in the exact mirror position. Alternate as much as you want!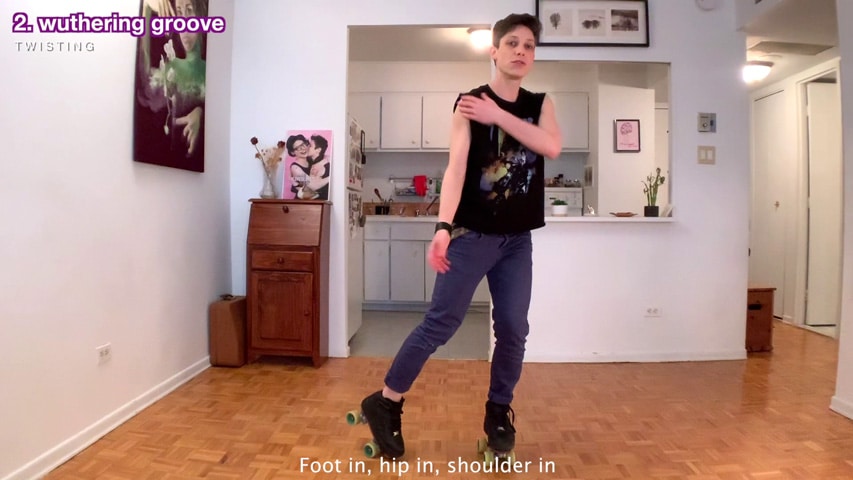 3. BABY YOU'RE A STAR
Now let's play with DIRECTIONS. For that, we'll use one-foot PIVOTS.
Here we will focus on pivoting on the toes: slightly lift your heel and make a quarter turn to the side opposite to the foot you are on (quarter turn to the left if you are on your right foot).
a. Forwards Star
Use that pivot on (1) OPEN and close in the same direction you have landed. Repeat. You will then create a star going forwards and, after 4 times, you will be back to your initial direction!
You don't have to complete the whole star. For example, you can do two points to the right, then change feet (and directions) to do two points to the left.
b. Backwards Star
It is exactly the same concept, except you pivot while (2) CLOSING. This time, your star will go backwards!
c. Pivot Mix
Try pivoting on both (1) OPEN and (2) CLOSE.
Try mixing it all: pivot on (2) for the first move, and on (1) when you repeat it, for example.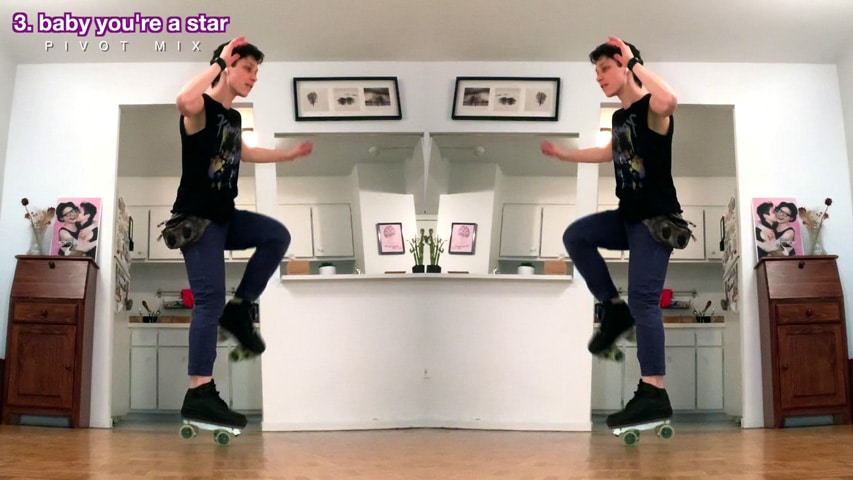 4. NO-RESET
For this variant, do not put your free leg back on the floor at (2) CLOSE. Keep it bent under your hip. You can apply it to the basic Side Step, as well as the stars…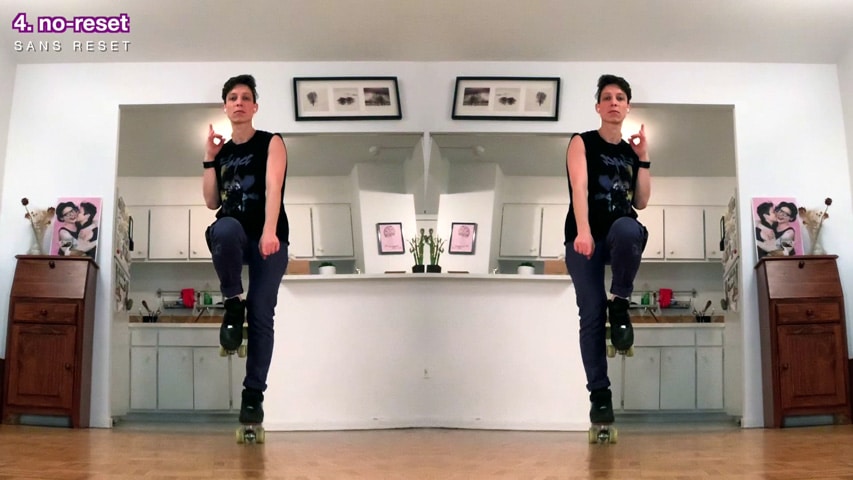 5. RECAP-COMBO
This visual conclusion recaps all the variants we saw in the tutorial. Your turn to find more!
If you have questions or comments on this tuto, don't hesitate. And if you want to focus on a particular move in another tuto, let me know!
To go further…
www.facebook.com/closeyres
www.instagram.com/closeyres
www.youtube.com/c/closeyres
THANKS to Flaneurz, Roll-Line
& Fydelity Stereo Bags for the support!
#flaneurz #crewrollline #fydelity
#rollerskating #rollerdance #rollergirl
Auteur
Chloé SEYRES
''Kozmic Bruise''
Chloé Seyrès aka Kozmic Bruise #8612. Hardcore skater since forever. Former inline freestyle slalom champion, has switched to the quad side with derby and dance and more. Also international judge in freestyle and certified agility coach. PS: Translator and linguistics consultant in parallel life.