Mistakes to avoid when you take up skating
Par alfathor | Publié le 13 February 2016 | Mis à jour le 3 November 2020 | Catégories : AllAll | Sous-catégories : learning skatinglearning to skate | 30924
| Tags : learning skatinglearning to skate
The flawless flow of a skater who passed you by made you feel like taking up skating. Without a second thought, you went to the closest shop and bought a brand-new pair of roller skates. OLS gives you a few hints to start on a sound basis…
Which mistake(s) did you make?

Buying skates two sizes too big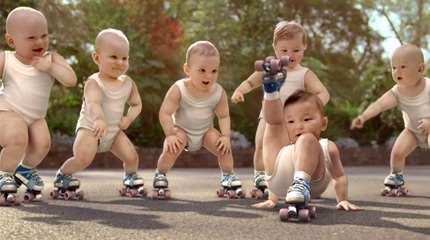 Some old misconceptions die hard. It's common to hear that you should choose your skates a bit bigger than your feet. It's not always the case. Just like running shoes, if your skates are too big, it will lead to friction and blisters. Your feet should be held tight.
If you want to buy skates for your kid, rather than going for a model twice too big, think of adjustable skates: they are a bit more expensive but they will last longer.
Not getting the right type of skates
Just as you wouldn't even think about going cycling in the woods with a speed model, each skating practice requires a specific equipment. You don't go do flips in a skatepark with a fitness pair bought in a supermarket! Visit our "Choosing your skates" section for more information.
Putting your protective gear upside down or not wearing any (!)
Even if skating is not an accident-prone sport, you're better safe than sorry, especially when you are a beginner. Falling on your butt or wrists doesn't always know a happy ending… At least, wear wrist guards… And if you have a bike helmet, feel free to use it too.
We've lost count of the times we spotted wrist guards slipped upside down or helmets worn the wrong way around. Take the time to check that everything in is order with the sales assistant before going for your first try. Also, don't forget to adjust the size: not too big and not too small.
Learning by yourself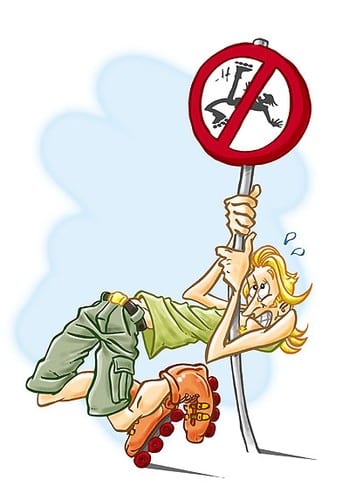 The more the merrier, it's more motivating to learn how to skate within a group of people. You will improve faster, have fun, support each other (and laugh at each other too).
Learning all together as a family, parents and kids, is also an opportunity at bringing the family all together. It's always nice to have an activity in common. There are many skating clubs, you will learn better and faster there, under qualified coaching. Moreover, if you learn by yourself, you may get bad habits that will be hard to drop.
Skating fast without knowing how to brake
You've left the shuffling stage to enter the skating stage, meaning you are now experiencing your first real rolling sensations. That's great! But above all, before going full throttle, make sure you've understood how to break and control your speed.
Avoiding the fall at all costs
Falling is not a fatality. It can even become fun if you learn how to anticipate and control it. Street skaters have developed cat-like agility and have understood long ago that falling is inevitable. When you feel that you're losing balance, don't try to straighten up at all costs. It's safer to control the fall than to end up flying in the air without having a clue of how you're going to land. Letting yourself slide on your protective pads works quite well too and can be a good option!
Limiting yourself to one practice only
Skating offers such a variety of practices it's a shame not to try at least a couple different ones! When you get stuck into one discipline only, your technical range is limited. Each specialty develops motor abilities that may prove useful one day. The more versatile you'll be on skates, the less boring and the more fun! Most skating champions are all-rounders.
"All I know is that I know nothing."
Socrates
Links
Choosing your roller-skates
Skate lessons
Auteur
Alexandre Chartier
''alfathor''
Alexandre est le fondateur et webmaster de rollerenligne.com depuis 2003. C'est un passionné de roller en général, tant en patin traditionnel qu'en roller en ligne. Il aime le patinage à roulettes sous tous ses aspects : histoire, économie, sociologie, évolution technologique... Aspirine et/ou café recommandés si vous abordez un de ces sujets !
Traducteur
Chloé SEYRES
''Kozmic Bruise''
Chloé Seyrès aka Kozmic Bruise #8612. Hardcore skater since forever. Former inline freestyle slalom champion, has switched to the quad side with derby and dance and more. Also international judge in freestyle and certified agility coach. PS: Translator and linguistics consultant in parallel life.