Trekking: Safety instructions for open road skating
The network of cycle ways and eco friendly ways is not homogeneous in France. Lots of skaters unavoidably end up going on the roads. Skating on roads requires a good number of precautions, which are simple but vital for your safety.
Trekking: Safety instructions for open road skating
Basic facts
Once you've gained self-confidence and a certain technical level, unavoidably you end up in getting off the beaten tracks and off the cycle ways to take the open roads.
Give priority to secondary roads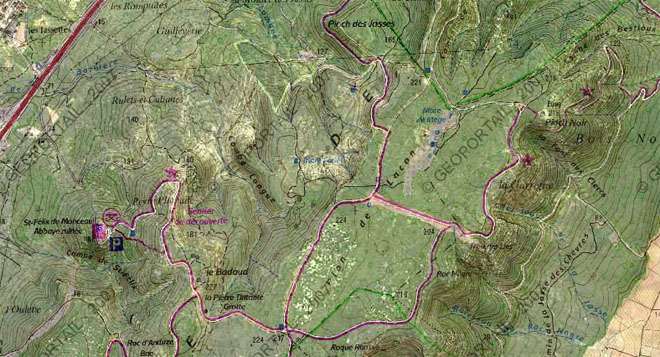 First thing: avoid the main axes! The French network is well structured: highways, national, departmental, communal roads… the divisions are rather clear and precise.
Logically enough, highways and other roads for motorists are forbidden to cyclists as well as pedestrians, and thus to skaters. Anyway, life expectancy on a hard shoulder doesn't exceed one minute…
National roads are also very dangerous, let's forget about them too…
Still remaining: departmental and communal roads, which may be used by skaters but not without a couple of precautions.
A tip? When you plan a route, give priority to axes that do not lead to big cities. they will be less busy since they are less direct.
See…
The rules of the road indicate that when a pedestrian is compelled to walk on the road, they should face the traffic… contrarily to what may indicate the rules, reason tells us to skate in the same direction as cyclists, i.e. in the same direction as the traffic!
It means that you should constantly watch your back in order to:
check if there is a vehicle coming
evaluate its speed
measure the distance at which it is going to pass you
determine the potential aggressiveness
check if another vehicle is going to arrive in front at the same time
Behaviors to adopt during the passing by a vehicle
First thing: a car is a metal armor that can weight several tons, in case of an accident you are no match. You risk your life whereas the driver will only get a few years in prison (for the worse).
On the road, you are not at home and you should keep a low profile, even if you think you are within your rights.
A honking does not necessarily shows the aggressiveness of a driver, he may want to warn you he is coming. The insistence on the honking will reveal a lot about his state of mind.
Do not show any sign of aggressiveness in case of honking, an excessive reaction from you may make the driver want to give you a lesson. At least wait to have been passed before showing any emotion!
If a vehicle arrives at great speed, diminish your pace to avoid your leg to be taken away. It is better to have less amplitude in order to take less room on the road.
If the road is wide enough, still check that the car is far enough when it passes you.
If the car slows down behind you and waits to pass you, you may help the driver in stopping pushing and letting yourself roll while they pass you. You may also indicate with a sign that they can go.
A skater may impede the sight of a motorist. If you see that the road in free for the vehicle to pass you, indicate it to the motorist.
If too long a line masses behind a vehicle that wants to pass you, you may take a few seconds to stop in order to ease the traffic flow. Moreover, this will limit the risk of engendering dangerous behaviors with passings in inappropriate areas. The impatient drivers will be less aggressive.
If a car starts passing you on a narrow road while another vehicle is arriving in front, you'd better let yourself roll and take the less room as possible, because if the car that passes you has to make a choice, it will chose to hug you rather than collide with the opposite vehicle.
Generally speaking, show to the driver that you saw him: visual contact makes communication easier and avoids misunderstandings. The driver will be reassured that you know he is behind you.
Particular case: Pack skating
Motorists are used to seeing packs of cyclists, particularly on Sunday mornings… but they are less used to skating packs! Here again, a minimum of discipline is required at the heart of the pack in order that the passings happen in the best conditions.
Skaters in the back of the pack should warn the head of the arrival of the vehicle (adding the type of vehicle is even better! A truck does not involve the same inconveniences as a motorbike).
Skaters must ban any change of positions in the pack during the passing of the vehicle.
Stay in line and do not do any whim that could surprise the motorist.
Once the head of the pack is warned, the skater in the back may indicate to the vehicle to pass. Do not forget to check that no vehicle is arriving in front and that the vehicle has enough room to pull back in!
2 or 3 packs of a dozen skaters are easier to pass than 1 pack of 20 or 30 skaters! Splitting the pack is sometimes preferable.
…and be seen!
In order to sum up, you could say: "Better looking like a Christmas tree than ending up seeing stars!"
When you skate on the road, you should be visible whatever the circumstances.
Favor light colors, which make a better contrast in dark places.
Put on a yellow jacket as far as possible. That behavior is adopted by more and more cyclists and motorcyclists.
In the darkness, a head lamp will make you more easily identifiable and you will be compared to a cyclist. Some models have a front/back mode (white light / red light).
Wearing a helmet gives you a serious looks, more composed, more sporty, less eccentric or unreliable… and it protects you!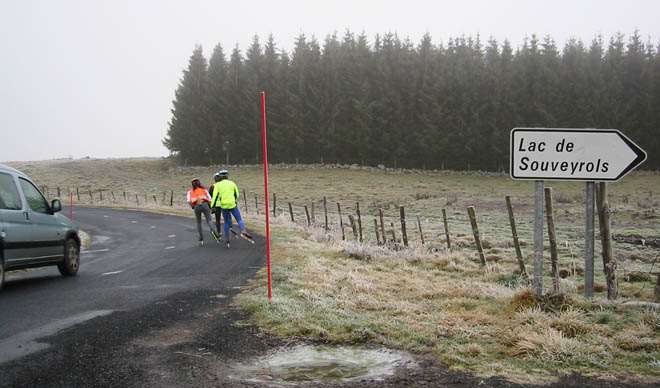 Useful links
Skating in the heat, precautions to take
Skating in the cold, precautions to take
What to do when you cross a stray dog?
Tips to skate in winter
Skating and insurance: check your contracts!
Skates and types of traffic ways
Skating at night: tips and pieces of advices
Making the good choice for long distance skates
Test of the Petzl Tikka XP2 headlamp
Long distance: water bag or flask?
Porterage solutions for trekking
How to plan a trek course?
The development of treks and long distance
Between road and sidewalk, the skating rules
The use of helmet in skating
Strengthen your ankles for a better practice
Street/trek skating protective gear
Benefits of roller-skating on health
To feel secure with roller skates under rain
The seven deadly sins of the roller skating beginner
By Alfathor
Translated by Close Yr E's
Photos: rollerenligne.com and all rights reserved

Auteur
Vernon SULLIVAN
''SULLIVAN''
Passionné de roulettes devant l'éternel, le jour j'écume le bitume. Si je me crashe, si je tombe, ma peau s'arrache mais pas mon coeur de roller !