The Leading Nations in the World of Skating: Inline Downhill
The Downhill Skating scene has a kernel of countries for which the culture of skating is just as extreme as the practice itself. Alexandre Lebrun is lifting the veil…
The Downhill Scene, by Alexandre Lebrun
In the Downhill discipline, you may list three main countries today: France, Italy, and Germany.
France at the Top
France is historically a strong nation in downhill skating. One of the particularities of the French downhill skaters is their braking technique: they systematically slide to brake.
Let's mention Séverine Christ Thomas, multiple world champion (including 2016 world champion), Sylvain Behr (20, 2016 Vice-World Champion), Etienne Herreros (Top-5 at the last two world championships), but also Sébastien Rastegar (winner of Sotchi, and regularly reaching the Top-3 in the Béton On Fire contests).
Benoit Gamba and Harry Perna also respectively won several World Cups and have several World Titles, but do not actively practice in competition anymore.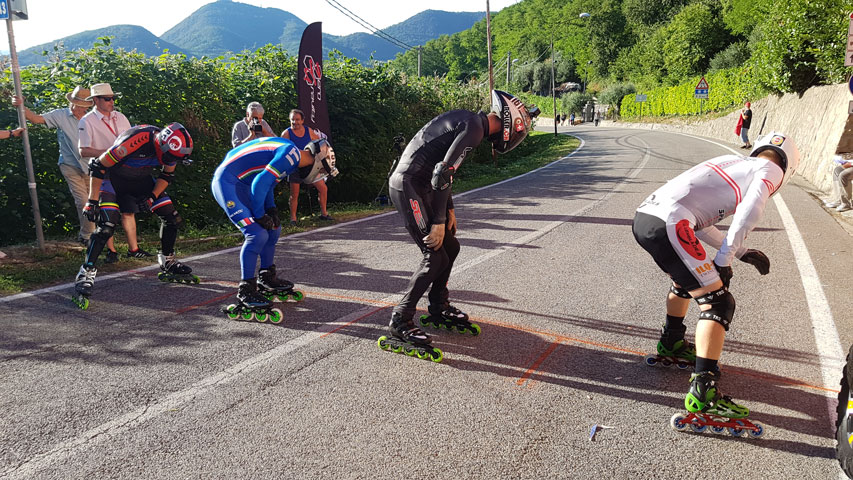 Italy in Ambush
Italy is the other leading nation. The Italian downhill skaters show real commitment to the discipline, through their national downhill team, the support of younger skaters, as well as the hosting of several international competitions each year. They have a different approach to the discipline as the French: They bet on rubber braking, and the skaters have a more speed-skating background, with speed-ups and maximum grip in bends.
Their leader is Angelo Vecchi, who has already finished first at the general ranking of the World Cup, and who won the World Title in 2016.
In the women's, Martina Paciolla is the World Vice-Champion of the discipline, succeeding Valentina Liguori, who entered many Top-3s over the last seasons.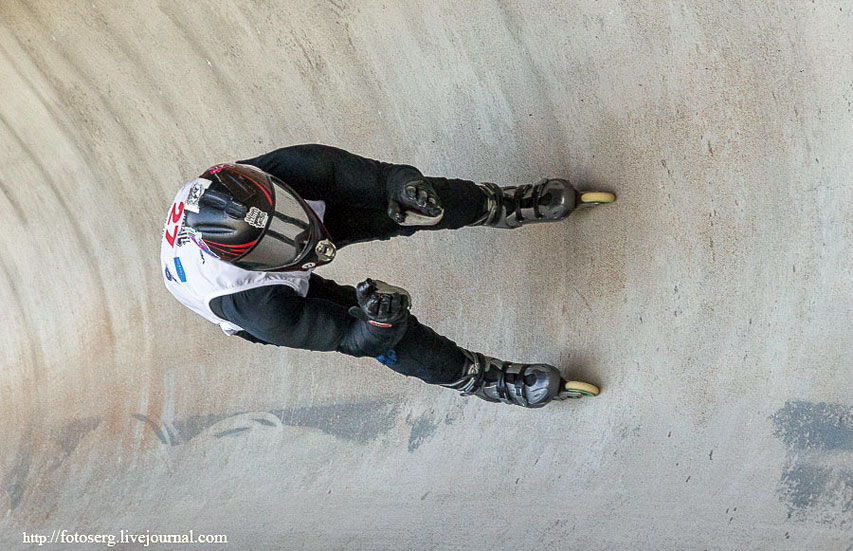 The German-Speaking Countries: Always in the Picture
Last but not least, let's present Germany, with Moritz Nörl, the 2014 Men's World Champion. In the Women's, Annalenna Rettenberger also regularly finishes in the Top-3s. The German skaters have a more Alpine/downhill-skiing background, which shows through their bodyweight placement in bends and their explosive speed-ups.
A few sports associations in those three countries knew how to invest in the future of the discipline, training young skaters in their early twenties… Which is not the case of a nation we have voluntarily not mentioned: Austria, represented by legendary Daniel Ladurner, who needs no introduction. This country comes down to its only champion, unfortunately, without continuity ensured to take up the torch.
Useful Links
Downhill Tab on Online-Skating.com
Photos : Laurent Fremiot
Fotoserg.livejournal.com
Patrizio Cabrini, Maurizio Busato
& Alexandre Lebrun
Auteur
Alexandre LEBRUN
''Rollo''
Dirigeant de Lyon Roller, Président de l'International Inline Downhill Association (IIDA), Vice-président du Roller Alpine and Downhill (RAD) FIRS Committee, organisateur de divers événements sur Lyon en freestyle. Je travaille à promouvoir le rolelr à Lyon ainsi que le roller freestyle et descente.