Meeting SkateXpress
Par alfathor | Publié le 8 May 2015 | Mis à jour le 3 November 2020 | Catégories : AllFigure skatingAllFigure skating | Sous-catégories : Roller-skaters interviews and portraitsRoller-skaters interviews and portraits | 5323
| Tags : Jean Marc Gravierchloé seyresinterview SkateXpressflorian gravierlaurence sabasMarjorie PhlippoteauSkateXpress
It's been two weeks since SkateXpress have released their roller dance short film 'Time Travelers' on the Internet. We have interviewed the crew…
Interview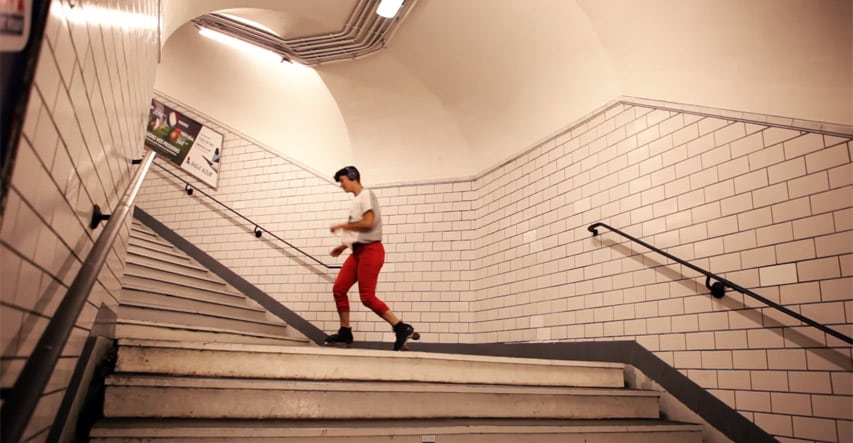 Hello Jean-Marc, could you present us the skaters of SkateXpress?
SkateXpress gathers expert skaters who are well-known in the worlds of quad and inline skating.
Laurence Sabas has been roller dancing for over 20 years. She is also a certified instructor.
Chloe Seyres: Former world champion in inline freestyle slalom, she goes in the derby world by the name of Kozmic Bruise. Chloe is part of the best French derby players.
Marjorie Phlippoteau: Downhill champion, skatecross expert, she is a skate instructor and the founder of the Parisian association GossipSkate.
Florian Gravier: This quad purist is the creator of the Flaneurz brand.
Myself, Jean-Marc Gravier: versatile skater, skate instructor and founder of the Parisian association Roller et Compagnie.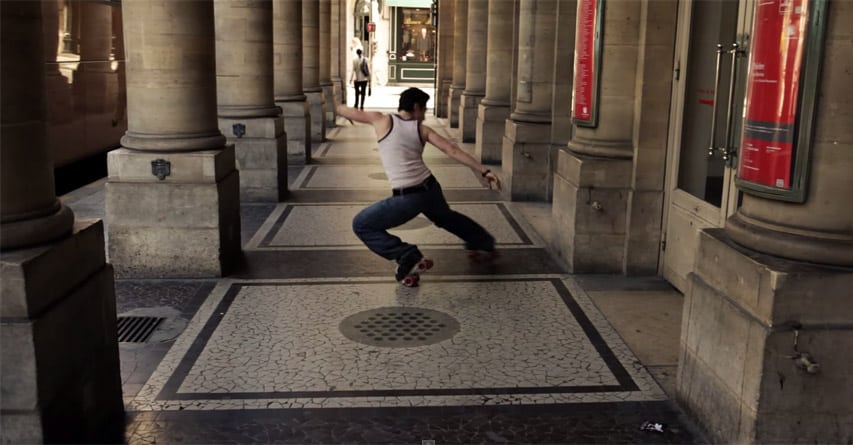 How many people are involved in the project?
Besides the 5 dancers, several professionals in video making and performing arts are involved in the project: one for video shooting, one editor, two set designers, one costume designer, one make-up artist, that is to say 11 people not taking into account the ones who gave a little extra help!
How did you come up with the idea of the video?
The world of roller dancing witnesses a revival everywhere quad skating is back. After the success of a viral video shot by a spectator during one of our live performances (over 200.000 views on Facebook) in September 2014 in Barcelona, Spain, it seemed obvious to us that we had to assert our style.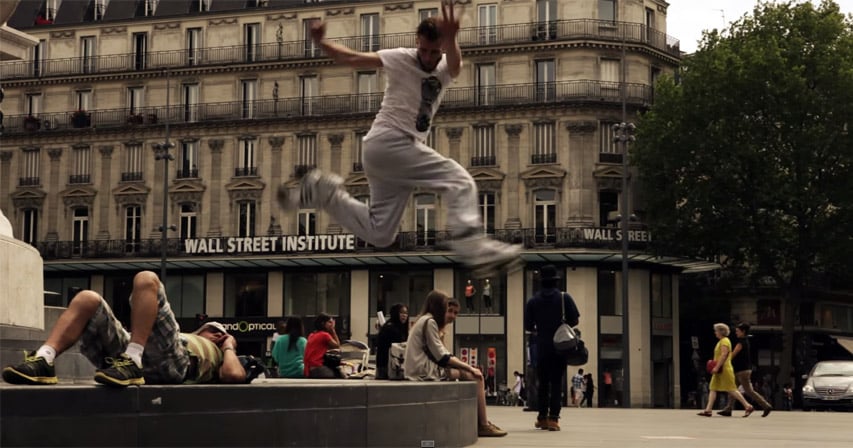 How did you create the scenario?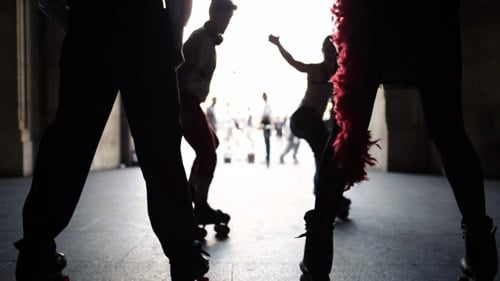 With SkateXpress, we create choreographies for various musical styles: funk, disco, hip-hop, jazz were born in different times and Paris, our city, is timeless. This is where the idea of time traveling through dancing comes from.
What is the purpose of this video?
SkateXpress is a company with professional intentions and this video is our book. It is also the first part of a series, the objective of which is to popularize the current version of roller dancing. It is also a way to communicate with the international roller dance movement and say: Now it's your turn to make something!
Why Paris? Because it is our city, one of the most skateable in the world!
What means were at your disposal for the making of the video?
We had quality logistics provided by video professionals, all members of the artistic collective La Main.
A word on your partners?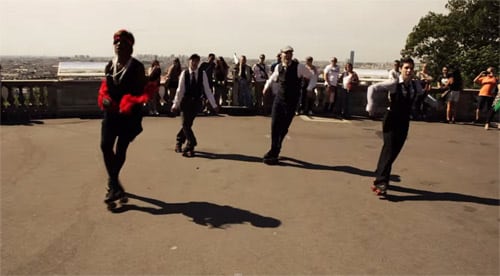 I'd say that they are the ones that are always there for skating! For all the members of SkateXpress, HawaiiSurf is the reference for specialized skate shops, and OLS is the most specific skating media that has ever existed. We are very grateful. Big up to the Collective La Main too, since SkateXpress was born between the walls the La Main Jaune roller rink to which the Collective had given a new breath of life.
Do you have more upcoming projects? Any videos in foreign cities?
Like I said earlier, this short film is the Part 1 of a series… Our aim is to modernize the image of roller dance in releasing quality videos in terms of choreography and production. The future videos will probably be shorter and completely different from that one! Moreover SkateXpress is above all a performing arts company and we regularly perform live in Paris and abroad. To be continued!
TIME TRAVELERS by SKATEXPRESS from SKATEXPRESS on Vimeo.
Links
Time Travelers: Travel through time with SkateXpress
By Alfathor
Translation: Chloe Seyres
Photos: SkateXpress
Auteur
Alexandre Chartier
''alfathor''
Alexandre est le fondateur et webmaster de rollerenligne.com depuis 2003. C'est un passionné de roller en général, tant en patin traditionnel qu'en roller en ligne. Il aime le patinage à roulettes sous tous ses aspects : histoire, économie, sociologie, évolution technologique... Aspirine et/ou café recommandés si vous abordez un de ces sujets !