Mareike Thum (Germany), conquering the record of the hour in inline skating
The team of online-skating.com has gone to meet the German inline speed skater Mareike Thum. Together with her compatriot Felix Rijhnen, she decided to break the hour record in roller skating on July 5, 2020, on the covered track of the Arena Geisingen (Germany). Interview…
Interview a few days before the World Record attempt
Hello Mareike, first of all, thank you for taking the time to answer our questions. How did you start skating?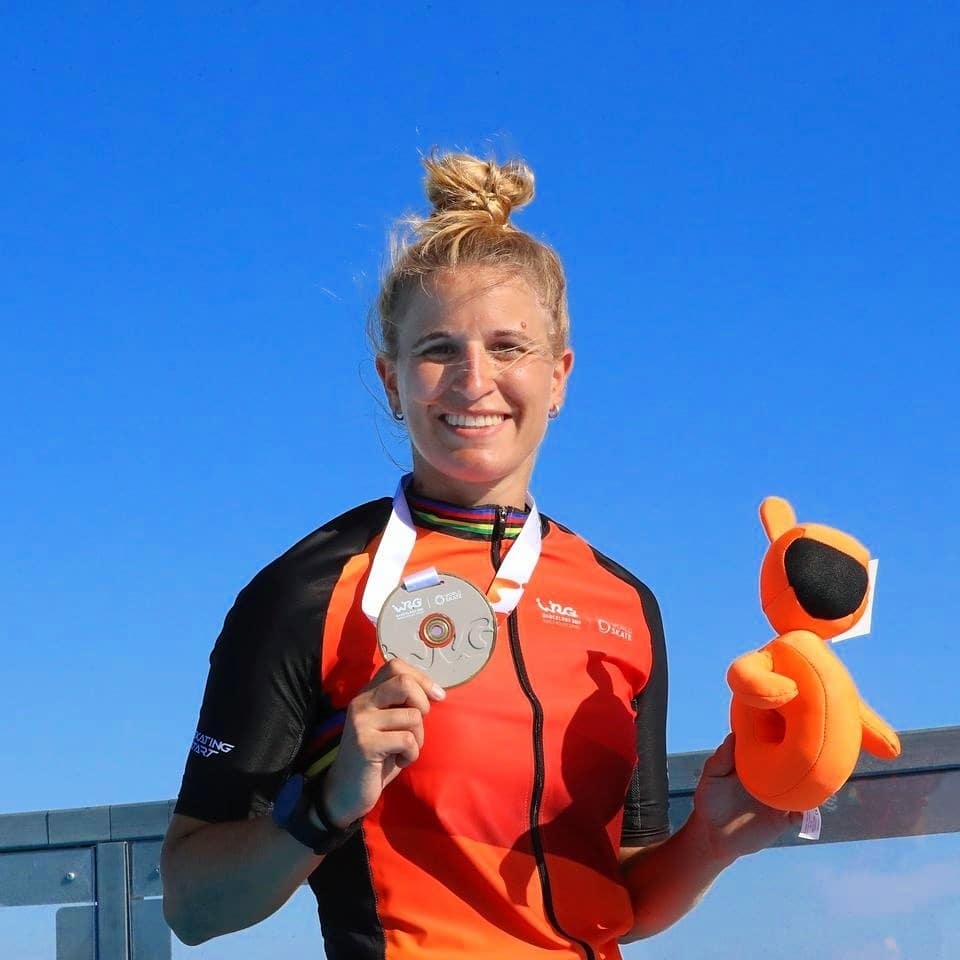 I started skating in Darmstadt (Hessen, Germany) with a friend when I was 6 years old. At the beginning I practiced figure skating and then switched to inline speed skating at the age of 12.
What made you choose inline skating rather than another discipline?
I tried many sports when I was a kid: running, swimming, triathlon, track and field… but I figure skated for many years because I liked to spend time with my friends in training, as well as with my coach.
After a few years, my figure skating training on quads in Darmstadt had to stop because the German national inline speed skating team was training there. That's how I discovered the sport for the first time in 2001. I wanted to give it a try. I practiced both in parallel until 2004. Then I switched to inline speed skating because I was more comfortable in skating fast than skating "nice", and because I was also well received and encouraged by my club ERSG Darmstadt.
What did you particularly like about speed skating?
The speed you can reach and the fact that you can push your body to the limit. It's a good mix of physical strength, technique and tactics. Being able to compete directly against your opponents in races also makes the race more exciting.
When did you start getting your first results? Give us an overview of your track record…
At the beginning of 2001, I was only good in racing and slalom, but I had the ambition to be even faster in order to follow the others. In 2005, I took part in my first European Junior Championship in Cardano Al Campo (Italy). In 2006, I became European Junior Champion for the first time. I won 4 medals that year. Then I won my first Junior World Championship medal in Anyang (South Korea).
In 2008, I won the gold medal in the elimination race at the World Sprint Championships in Gijon (Spain).
In 2009, I won my first senior gold medal with the German team in the relay at the World Championships in Haining (China). I also won my first senior individual medal in the 10 km points road race, as I did the following year.
In 2013, I won the silver medal in the 1000m at the World Games in Cali (Colombia).
Do you practice other sports in addition to inline skating? Which ones are your favorites?
I do downhill mountain biking for fun from time to time with my boyfriend and other friends. But I also like climbing. I like to play table tennis, basketball, skiing and snowboarding… and in fact, I like to do sports for fun (apart from racing bikes).
What is your best memory as a skater?
My second European Junior Championships in Martinsicuro (Italy) in 2006, when we all skated for fun and we won a lot of medals without anyone having high expectations of us. We were a great team, with a team spirit and we especially had a lot of fun skating. There was a really good atmosphere in the team. We sang and celebrated the medals, enjoyed the sun and had a lot of fun.
What is your worst memory?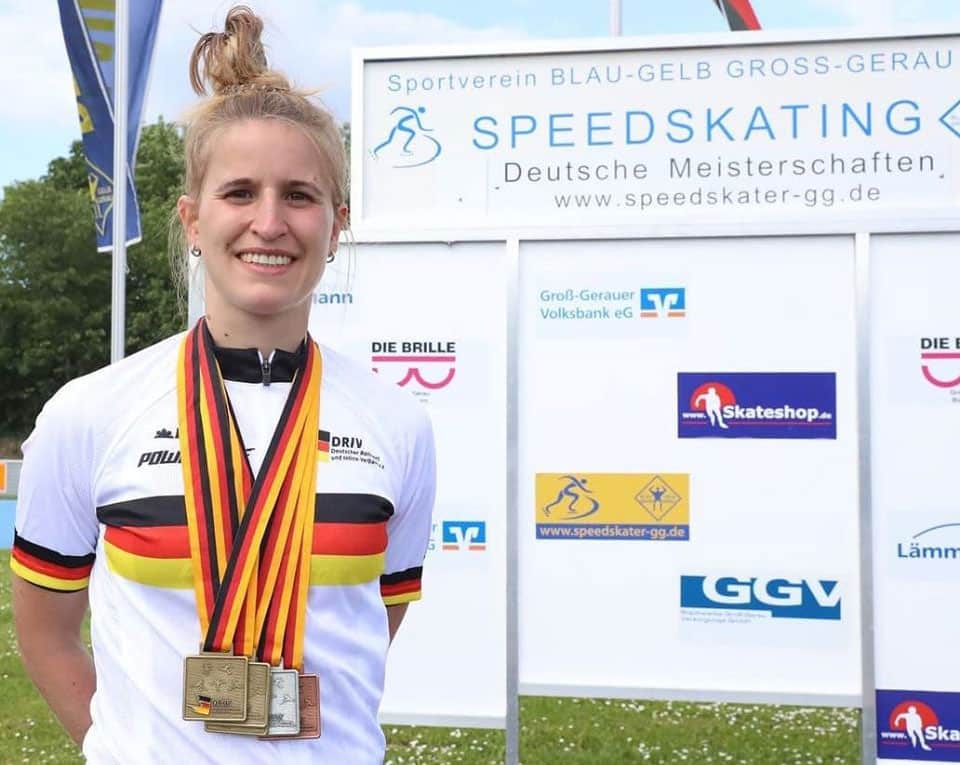 Oh, there were a lot of them, probably more than good experiences.
What do you like to do when you take off the skates?
I like painting, drawing, crafts, being close by. I also like sleeping, watching Netflix and eating!
What is your profession?
I'm a member of the sports support group of the Hessen police.
How have you seen speed skating evolve over the years?
It's gotten faster. Our sport is getting better and better, both in terms of athletes and equipment.
What I personally find good is that speed skating has gained a little bit of weight in the sporting landscape, with more people and races, for example through the European Cup. There are no longer so many big marathon series, but more track races.
What motivated you to try to break the world record for the hour in skating?
I like to push my body to its limits! And our federation gave us the opportunity to make this attempt. My coach, Kalon Dobbin (NZL) said that it would fit in well with my preparation and that I should take this chance.
Do you have a specific physical preparation to achieve this goal?
Not exactly. When I decided to go for it, my training was already going in the direction of working on endurance. We had planned this type of effort because of the lack of competition and a difficult endurance training block. We simply adjusted the pace to beat the hour record.
Had you ever tried to beat it before?
Two weeks ago, I skated for an hour in training to test myself, but of course it wasn't an official attempt.
What's your goal?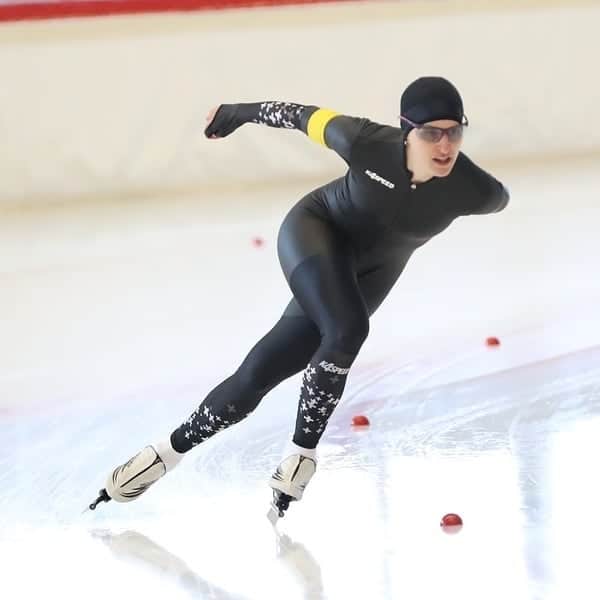 I'd like to skate at least 35 km.
Will you be using special equipment for this world record attempt?
No, nothing special. I will use the skates I skate with every day: EOSkates turntables, MPC Black Magic wheels and a CCN suit.
Who are your sponsors?
The Hessen Police, Arena Geisingen, EOSkates and CCN Sportswear.
What are your sports plans for the future?
I've been doing ice speed skating (longtrack) in winter for two years now and I hope my path will lead me to the Olympics!
What advice would you give to a child who wants to learn to skate?
Love what you do!
When you're having fun, you can put everything into practice. Success will come at some point, you just have to be patient. Don't be afraid to talk to your role models and other athletes and ask them questions. Only people who love sport as much as you do will be happy to give you advice.
Free speech: if you want to add something…
Success alone does not make you happy, try to enjoy what you do.
Technical data sheet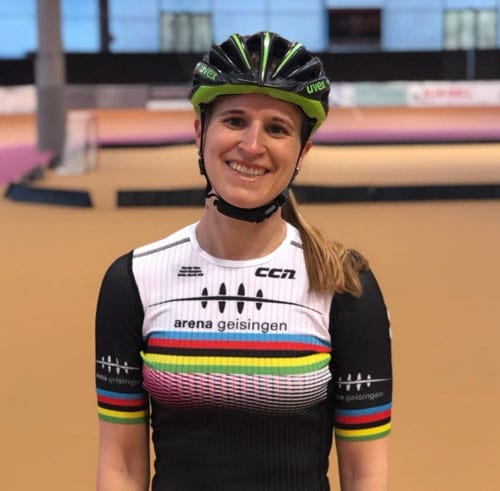 Name: Mareike Thum
Date of birth : 27/06/1991
Place of birth: Darmstadt (Germany)
Size: 1.60 m
Weight: 55 kg
Nationality: German
Lives in: Darmstadt, Inzell, Geisingen
First steps in skating: Artistic in 1996 and racing in 2001
Education: Police Officer
Strength: I love torturing my body to the extreme.
Weakness: I think too much and often lack courage.
Last film seen : Athlete A
Favourite music: I don't like music so much.
Favourite video game: I don't play
Favourite Book: My Training Log
Likes: food
Dislikes: Crowd
Quality: perfectionist
Flaw: perfectionist
Club / team: ERSG Darmstadt / Arena Geisingen team
Spoken languages: German, English, French (the most forgotten since school)
Alcohol or fruit juice? Alcohol, but only because I don't like fruit juice at all.
Beach or mountain? Mountain
Morning or night? Evening
Cheese or dessert? Dessert (actually both)
Rap, metal or techno? None
Football or rugby? None
International Awards
| | | | |
| --- | --- | --- | --- |
| | | | |
| World Games | 1 | 1 | 2 |
| World Championships | 4 | 5 | 10 |
| European Championships | 4 | 12 | 8 |
| Junior World Championships | 1 | 2 | 3 |
Links
Facebook – Mareike Thum
Instagram – Mareike Thum
Wikipedia – Mareike Thum
Auteur
Traducteur
Laethisia SCHIMEK
''SCHIMEK''
Laethisia Schimek est une patineuse professionnelle de l'équipe Powerslide. Elle est spécialisée dans le sprint et plus particulièrement sur 100 m où elle a été médaillée à l'occasion des championnats du Monde. Laethisia est en charge des traductions anglaises et allemande de REL !