Interview with Sandrine Tas (Belgium)
Sandrine Tas (Powerslide Matter World Team) got most of the medals of Belgium during the last European Roller Speed Skating Championships in Heerde (Netherlands). We wanted to know a little bit more about her. Interview…
Interview
Hello Sandrine, thank your for your time. Could you introduce yourself?
Hello, I am Sandrine Tas. I am 21 years old and I live in Ostend, Belgium. I am currently second year senior and member of the Powerslide World Team. I have been skating as long as I can remember and still feel the same joy when I get to put on my skates and go out for a ride.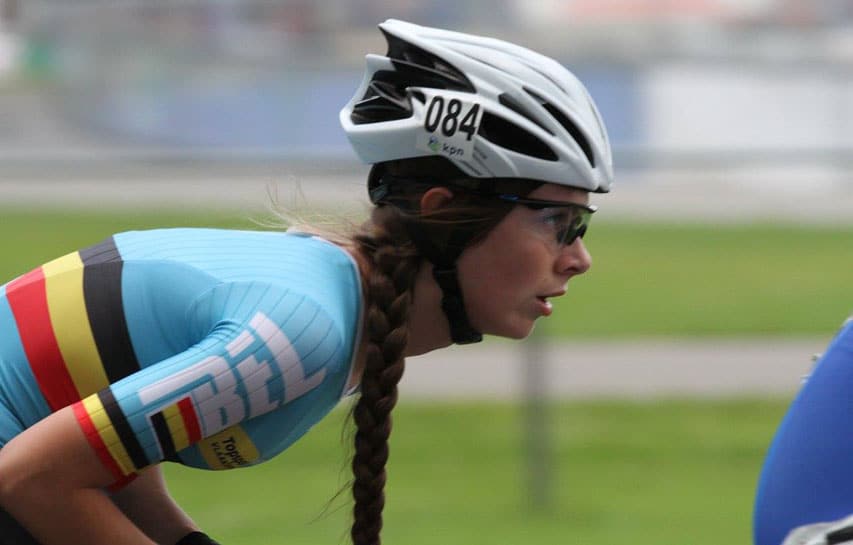 How did you start skating?
I have two older brothers, Siemen and Kwinten. We live in Ostend, about 500m from the track where Worlds was hosted in 2013. They were both skating and my parents took me with them to their races. When I was old enough to try it out, I followed in their footsteps, I think I was about 4,5 years old.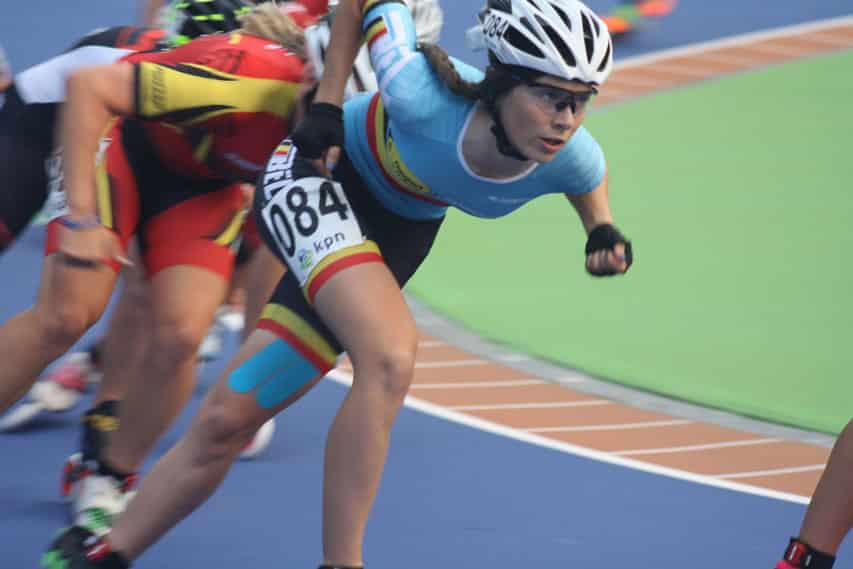 Did you practice other sports than inline skating ?
I have never done any other sports as serious as skating. I really love to take out my bike for a ride though. I once competed in a small race and if it works out I want to do some more small races on the bike in the future. Apart from sports I attended the music conservatory until I was 17 years old. As instrument, I chose to play saxophone.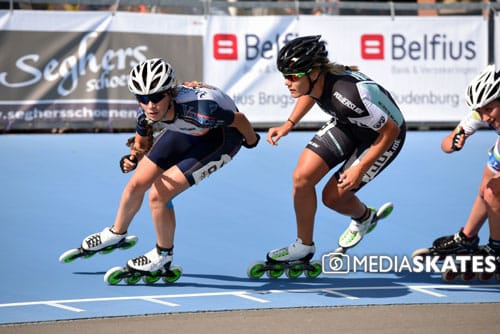 Why did you choose speed-skating and not another discipline?
The inline skating club is really close to my house. I never tried out any other skating discipline. I really like the feeling when you go high speed through the corner, when you cross the finish line first, the rush of the race … In winter we play inline hockey at the end of training just for fun.
Tell us a few words about your studies…
I study Bioscience Engineering at the university of Ghent. In September, I start my fourth year and want to finish my Bachelor degree. To be able to combine studying and skating I am not doing complete years. Instead of 3 years Bachelor and 2 years Master, I will do 4 years Bachelor and 3 years Master. With all the racing and training, it is often hard to stay on top of my studies. I find it important to have a plan for my future after skating. It is difficult to be focussed on two things at the same time but so far it is all working out.
What are your goals for the end of the season and the next one?
After a successful European championships in Heerde, I am looking forward to try and defend my World titles on 1000m and marathon. In the long distance races I would like to close up the gap to the best skaters and hope to skate the finals in the elimination races and skate for points in the point/elimination races. I've had a very good season so far and hope to show that at the highest level in China.
A regular day in your life: what does it look like?
A regular weekday for me starts at 6.45. I wake up, get dressed and eat breakfast. I need to leave my house around 7.30 in order to get to class on time. My first class generally starts at 8.30, but because I wanted to stay in Ostend close to the beautiful Vesmaco track, I need 45min to drive to the university.
At 11.30 we get 1h30 for lunchbreak. Usually I just eat together with some friends and we play card games to kill time. At 13.00, classes start again and I can go home at 16.00. When I get home around 17.00, I have some time to relax and get my stuff ready for the next day. Around 18.30 I will eat dinner and started getting ready for training at 19.15. After training I eat a little snack, take a shower and go to bed.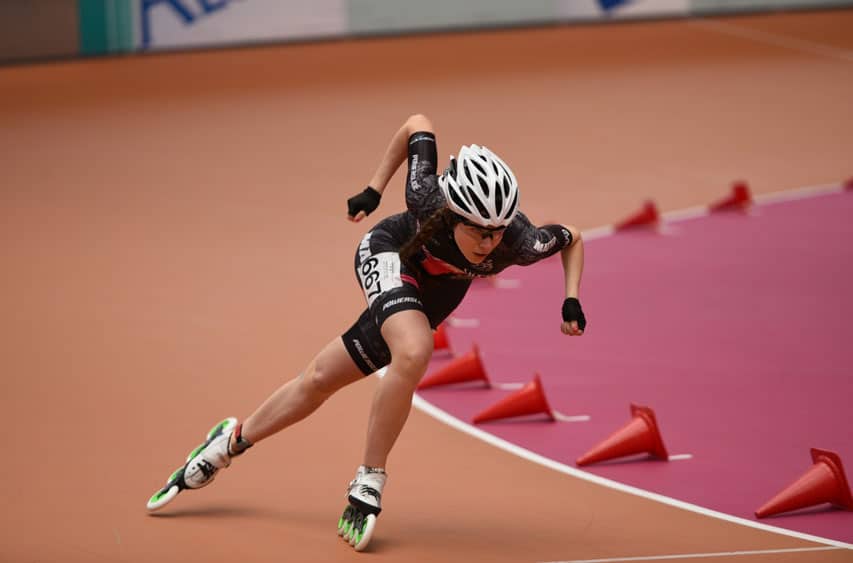 What is your favorite distance?
My best distances are 1000m and elimination. My strongest point is the combination of endurance and speed. This is something that I can use very well in a hard 1000m or at the end of the elimination. But in the end I just really enjoy skating and would race every distance if that was possible. Unfortunately it's not possible to recover fast enough so you have to make choices for your best distances.
What is your favorite event?
I really enjoy the World Championships. To race against the best people from all over the World is really exciting. The races are hard and everyone is going for the win. Last year was the first time that I skated Berlin marathon and that was a great experience as well. The crowd is really supportive and the finish line under the Brandenburger Tor is impressive.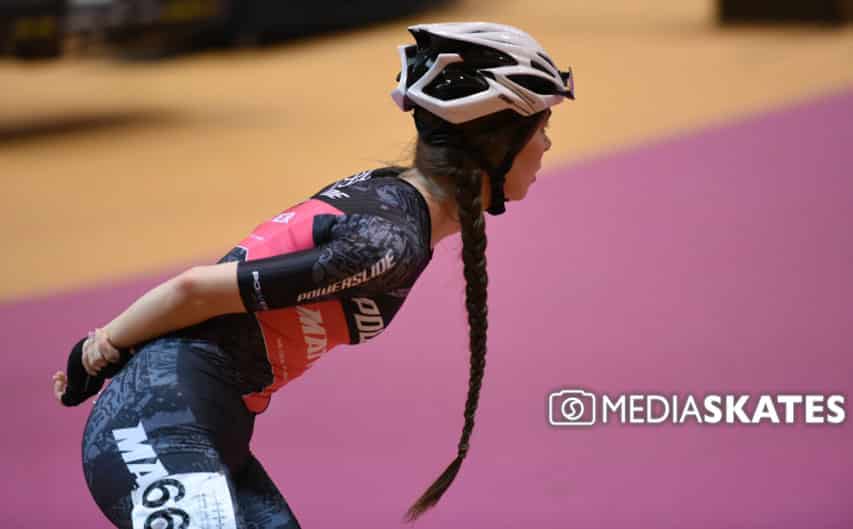 Who is your favorite champion?
I am quite a big fan of Fabian Cancellara. I feel like he's always stayed very humble despite his great successes in road cycling. That is something I really admire in an athlete and always try to keep in mind when I'm racing.
Did you try ice-skating ? How do you feel about it?
I have tried ice for a couple of sessions. I really enjoyed it but currently I don't have the time to really try it out. Right now I'm sticking to studying and inline skating. I won't say that I will try it for sure later on, it's something I will have to think about when I have finished studying
Thank you Sandrine!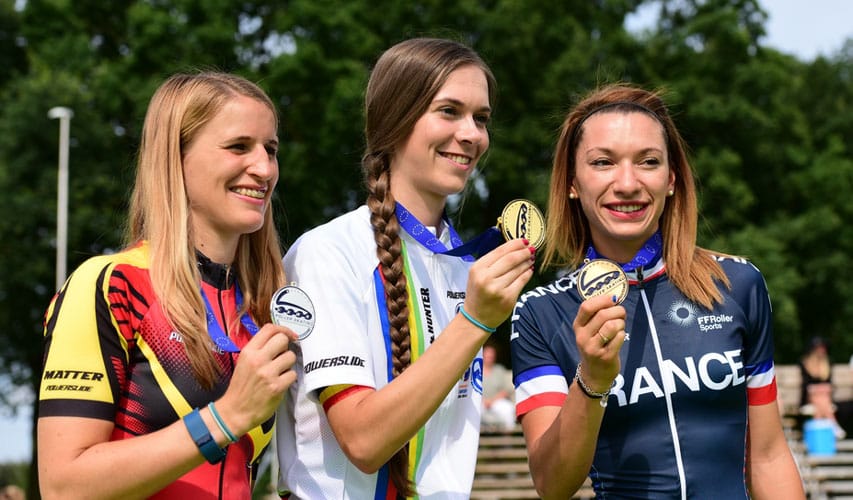 Technical facts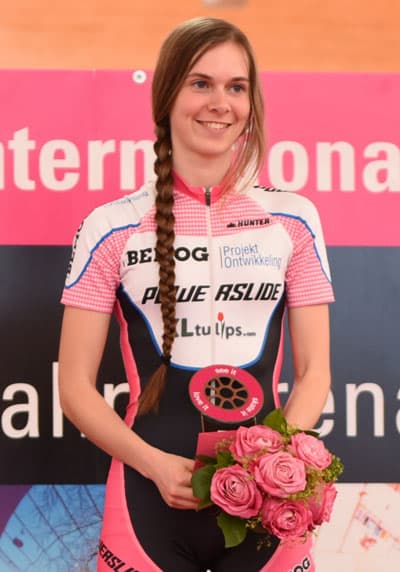 Lastname: Tas
Name: Sandrine
Date of birth: 7 september 1995
Born in: Ostend, Belgium
Height: 1m71
Weight: 55kg
Country: Belgium
Lives in: Ostend
First steps in skating: 1999
Category: Senior ladies
Studies: Bioscience engineering at university of Ghent
Strengths: good combination of speed and endurance
Points to improve: getting stronger for the harder races
Other sports : apart from skating I really like to ride my bike, just for fun and training
The last film she saw: We're the millers
Favorite music: Dear Mr President by Pink
Video games: Fifa or Call of Duty
Readings: A thousand splendid suns – Khaled Hosseini
Likes : baking
Dislikes: grabbing and fighting in races
Qualities: work hard to reach my goals
Defects: I get worked up when things don't go according to plan
Club: Zwaantjes Rollerclub Zandvoorde
Team: Powerslide World Team
Best memory: World champion 1000m in Kaohsiung Taiwan
Worse memory: Euros 2013 in Almere, crashed twice in two days, ended up with a broken arm
Speaks: Dutch, English and a little bit of French
Alcohol or fruit juice ? juice
Beach or mountain? beach
Morning or evening? morning
Cheese or dessert ? dessert!
Rap, metal or techno ? none
Football or rugby ? Football
Links
By Franck Pindeler and Alexandre Chartier
Photos : Sylvie & Emmanuel Geoffroy
Christophe Pierredon
Auteur