Going to work by skate: Good or bad idea?
Par alfathor | Publié le 11 December 2014 | Mis à jour le 3 November 2020 | Catégories : AllAll | Sous-catégories : health and roller-skatinghealth and roller-skating | 15662
| Tags : Going to work by skateskate workskate locomotion
Whether it is for economical, ecological or sports reasons, nearly two-thirds of the OLS readers usually or occasionally go to work by skate. How to optimize the conditions of your daily ride? Tips…
Tips…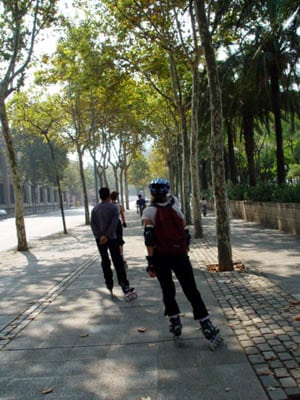 When you have the luck not to live too far from your place of work, the option of going by skate inevitably crosses your mind at one point. When work is demanding and you lack time to train, or simply to skate, going to work by skate is a good means to kill two birds with one stone.
Avoid skating too fast
How tempting it is to speed up a little! It is not a forbidden pleasure of course, but increasing your speed also implies more vigilance and a perfect awareness of your braking skills. When you skate fast, your vision centers and your vision field narrows down. You are less able to see danger coming from the sides. Key word? Anticipation! If you permanentely watch around, you considerably reduce the risks.
Moreover, controlling your speed will prevent your from arriving at your place of work all sweaty. Your work colleagues will thank you for that, even more if there are no showers on the spot.
Use sidewalks, tracks and cycle lanes to the max
The city is the kingdom of cars, despite urban plannings with delimited zones for different users. Sharing the urban space requires respect and tolerance from each and everyone. On the sidewalk, skate at a moderate speed not to frighten the passers-by. On cycle lanes, don't forget that you are only tolerated there. If you venture on the road, make sure that it is your only option and that you don't impeach the traffic.
Alternate between road and sidewalk
Skates have the advantage of being very handy compared to cars and bikes. So that in case of danger, you can easily switch from road to sidewalk, as long as you have a good skating technique.
Be permanently vigilant
The main trick of a daily ride? Monotony. You know it by heart and end up skating mechanically without thinking about what you are doing. Yet, those are the moments when you should be the most vigilant. You are never safe from a car running a traffic light, a bike making a swerve, a hole in the road, a work zone poorly signaled… or the door of a car opening at an inopportune moment!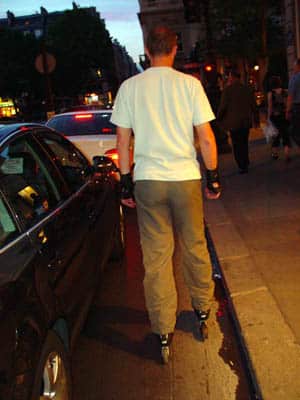 Believe me, there is a ring of truth about all this. All in all, always keep an eye over your shoulder.
Be visible, especially at winter time
In order to be perfectly safe in your daily ride, you should be visible. There are many luminous devices and various reflective safety vests on the market. Equip your helmet or your backpack and wear light colors during the winter time, in order to be more visible in the traffic.
Wear a helmet
Yes, we are all aware that a helmet is not your hair cut's best friend. But in case of a collision with a bike, a car or a distracted passer-by, you'll be glad you had it on. If you really want to be fit to be seen, bring a comb in your backpack.
Take care of your equipment
If you have the courage to go to work in the rain, make sure you have the according outfit, as well as lubricated bearings with elastomere flanges… even ceramic bearings. This choice is a must for a good reason: If it rains several days in a row, you won't have the motivation to clean your skates every evening. By the way, we would advise you to invest in latex boot covers. They will protect your boots and keep your feet dry.
Make sure you have clothing change
Whatever the weather, having an extra set of clothes is not exactly an extravagance. If you've sweat a little or taken on water, you'll be glad to have it. Moreover, it is more appreciable to feel clean at work. Our tip: Always leave a set of extra clothing at your work place.
Have a fallback solution
Sometimes, despite all the will in the world, conditions have it that you have to resign yourself not to taking your skates. Anticipate with fallback solutions, walking, cycling, driving, public transportation…
It is more complicated when…
… You live in the countryside
Longer distances, no cycle lanes, lack of road lights, rural areas don't make skating trips easy, unless there is a green lane nearby!
… It is raining
The surface becomes slippery, the braking distance gets longer, the equipment suffers from bad weather and needs more maintenance. Without taking into account that you arrive dirty or soaking wet at work.
… The urban planning is not favorable
You may live in a city, but may only have major roads to go to work. In this case, rather opt for your personal vehicle or public transportation.
… The air is polluted
Doing sports is good, but practising when the air is saturated with polluting particles is an aggravating factor. Indeed when you breathe deeply, pollution enters deeper into your lungs. You think you are doing yourself good but it is the opposite.
Useful links
The impact of pollution on skaters' health (French)
Texte : Alfathor
Photos : rollerenligne.com
et Ligne Droite Roller
Auteur
Alexandre Chartier
''alfathor''
Alexandre est le fondateur et webmaster de rollerenligne.com depuis 2003. C'est un passionné de roller en général, tant en patin traditionnel qu'en roller en ligne. Il aime le patinage à roulettes sous tous ses aspects : histoire, économie, sociologie, évolution technologique... Aspirine et/ou café recommandés si vous abordez un de ces sujets !