Chronology of the One-Hour World Record on roller and inline skates
Many speed skaters have achieved hourly roller records over the years, often in very different conditions from one time to the next. The International Federation is working on standardizing the format to create an official record. An overview of the performances of these champions…
The record of the hour in inline skating: women's performances
Within the framework of the world record attempt of Felix Rijhnen (GER) and Mareike Thum (GER), the International Roller Skate Federation (World Skate) has worked on a set of rules for the event. It was drafted in collaboration with Pascal Briand.
The objective: to standardize the conditions of the record in order to be able to homologate it and to create a form of equity between the skaters who would try to tackle it.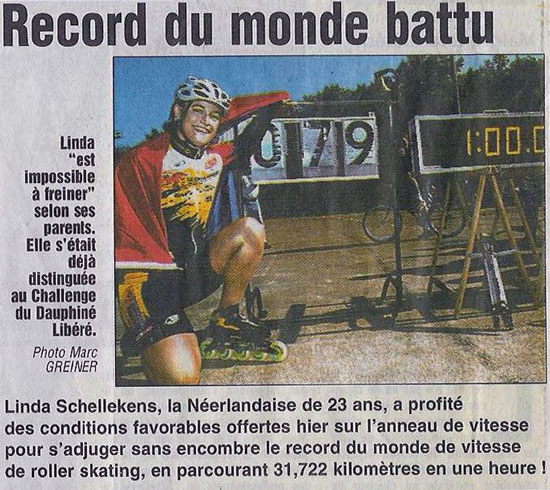 When you look back at the history of inline skating records, you will see that the Netherlands has made a specialty of it! The Dutch were among the first to use modern inline skates, which partly explains their omnipresence in the rankings.
30 April 1988: Tineke Hoogendijk (Netherlands) – 28 km 203 m and 69 cm
A record achieved on the Vriezenveen track.
14 August 1990: Karin Verhoef in Vrouwen (Netherlands) – 30 km 55 m 22 cm
The Dutch Karin Verhoef passes the 30 km mark on the occasion of her world record of the hour in inline skating. Also on the Vriezenveen track.
12 October 2003: Linda Schellekens (Netherlands) in Grenoble (France) – 31 km 722 m
Linda Schellekens is 23 years old when she tackles the world record of the hour in women's inline skating. She has only been roller skating for 4 years when she made her first record attempt on April 6, 2003 on the track of the Joseph Boucau Stadium. The wind prevented her from going to the end of her dream, she only needed 600 m to reach it.
On the 400 m speed ring in Grenoble, she then organised a second attempt. She is helped by the Laurent family and her LOU Roller club. The Olympic track, faster and more favourable, gives her wings. Equipped with a 5×84 mm turntable, she just missed the 32 km target she had set herself but still dropped the old mark.
July 2020: 34.336 km for Mareike Thum (GER) in Geisingen (Germany)
It is not surprising that almost 17 years after Linda Schelleken's Mareike Thum broke the record on the track of the Arena Geisingen. She improved it by almost 2.614 km. She did an excellent job and only just missed her goal of 35 km.
The record of the hour in rollerblading: men's performances
1910 : Hal Berte (Great Britain) 26 Km 430 m (on traditional roller skates)
Hal Berte was a sportsman at heart. He left his mark in roller skating but also in cycling. The "Véloce-Sport", a newspaper specialized in the "little queen", refers to him :
Mr. Hal Berte, roller-skating champion in England, is also an excellent veloceman and is currently riding a "Wulfruna" bicycle. He would be eager to compete in any long-distance or road race in France."
The newspaper "La Vie au Grand Air" of November 26th, 1910 states that the roller skating records set by Hal Berte were set on asphalt tracks.
"The prowess accomplished on the asphalt track is even greater."
A paragraph in the newspaper "Le Matin" of January 30, 1911 suggests that he had held the record for the hour since March 1, 1902. The French record of the hour was then held by Nicot, a professional skater, with 25 km 80 m.
29 janvier 1911 : Jesse Carey (Canada) 28 km 375 m (en patins traditionnels)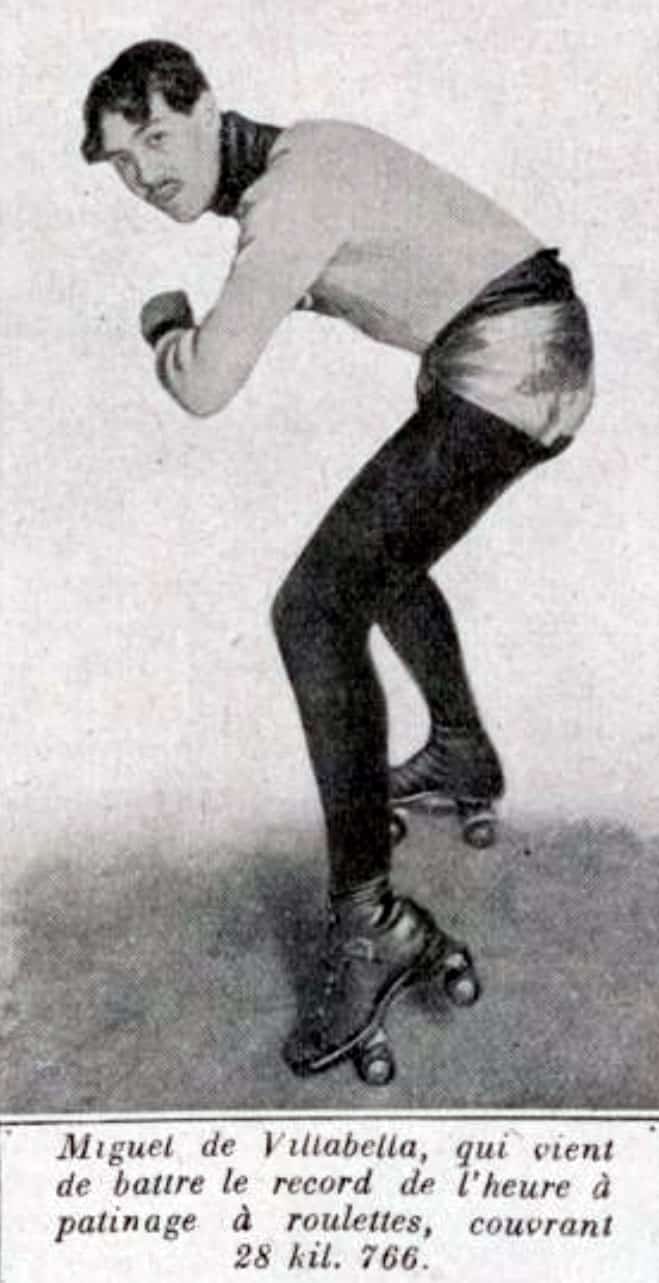 On December 24, 1910, Jesse Carey broke the 24-hour world roller skating record by 476 km 933 m "the distance he covered without stopping for a moment."
For his one-hour record, he set out on a track that was 133 meters long and 33 centimeters in circumference. The newspaper "La Nouvelle Presse" of February 5, 1911 reports Jess Carey's hour record, after his beautiful victory of the "Patin d'Or".
"He covered, last Sunday, at the Palais des Sports, 28 kilos. 375 m in one hour, beating the record that belonged to the Englishman Hal Berte with 26 kilometres 490 metres. Carey could have done even better if he'd had more coaches."
1912: Miguel de Villabella (Spain) 28 km 766 m (on traditional roller skates)
On October 27, 1912, Villabella took part in the Grand Prix du SCUF, an interclub match against the SOCF and the SRHCF at the Palais des Sports. Spanish champion and winner of the American-style Easter Grand Prix of the 2 Hours, he had already been noticed by the public.
La Vie au Grand Air of November 24, 1912, refers to Miguel de Villabella, a skater who broke the hour record by covering the distance of 28km 766m. The press would be more fertile some thirty years later when Villabella took centre stage at the opera: the "Paris Midi" edition of 6 August 1941 and "Le Journal" of 25 August 1941 tell us that Miguel de Villabella was also an opera singer! As the first opera tenor, he had notably interpreted the Barber of Seville. Villabella was smiling from his physique at the age of 18, with only 45 kg, as he liked to remind us in Paris Midi.
April 30, 1988: Evert Van Benthem (Netherlands) – 31 km 515 m and 42 cm
A record achieved on the ice rink in Vriezenveen.
15 September 1988: Egbert Post (Netherlands) – 32 km 113 m and 66 cm
Again on the ice rink in Vriezenveen, the track of all records for the Dutch attempts!
22 June 1989: Dick Hoeve (Netherlands) – 32 km 325 m and 58 cm
Dick Hoeve realizes his performance on the Vriezenveen track, the same track that will be used by Haico Bouma a few years later.
Eddy Matzger (USA) – 33 km ?
It seems that Eddy Matgzer held the record before Haico Bouma.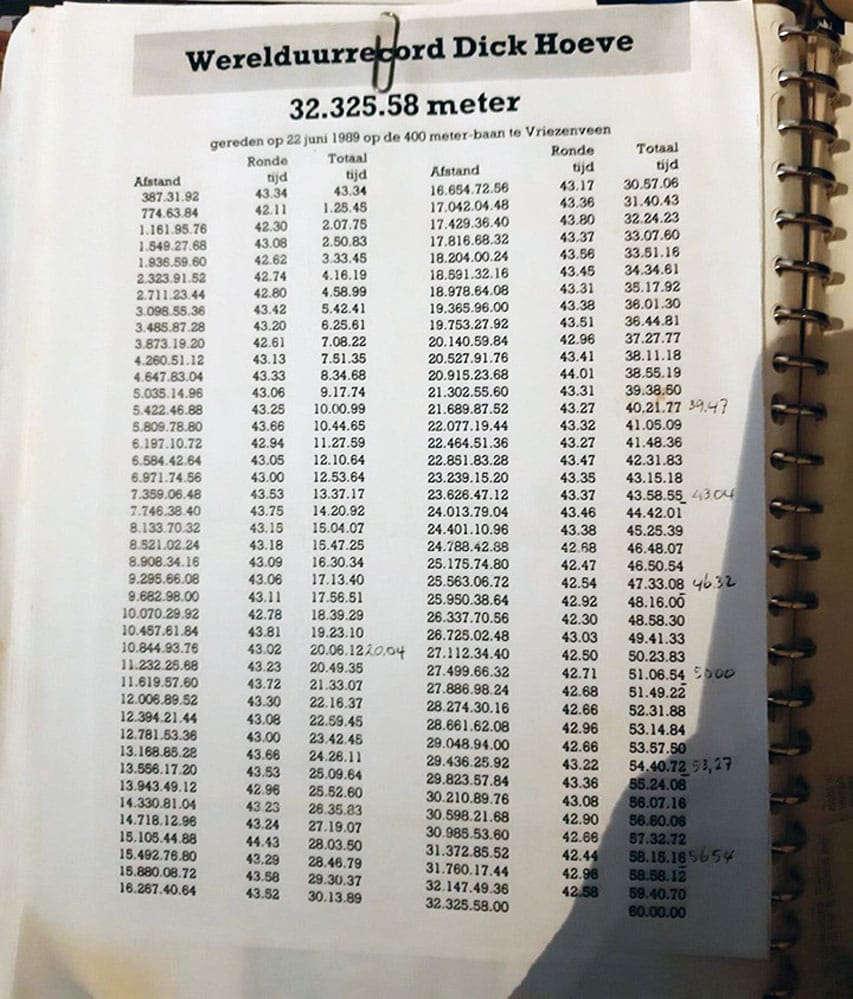 14 August 1990: Haico Bouma (Netherlands) – 34 km 276 m and 35 cm
Dutch skater Haico Bouma broke the world record for the hour twice, four years apart. The first took place on the inline skating track in Vrienzenveen.
8 October 1994: Haico Bouma (Netherlands) – 35 km 589 m and 12 cm

The second record took place on the 400 m ice rink at the Groningen Kardinge sports centre. Unlike the Vrienzenveen track, this one is covered. Concrete is also faster there. He set off on his 5×76 mm skates with a pair of Viking skates with a rather… soft structure. He improved it by 1312 metres and 77 centimetres for a total of 35 kilometres 589 metres and 12 centimetres.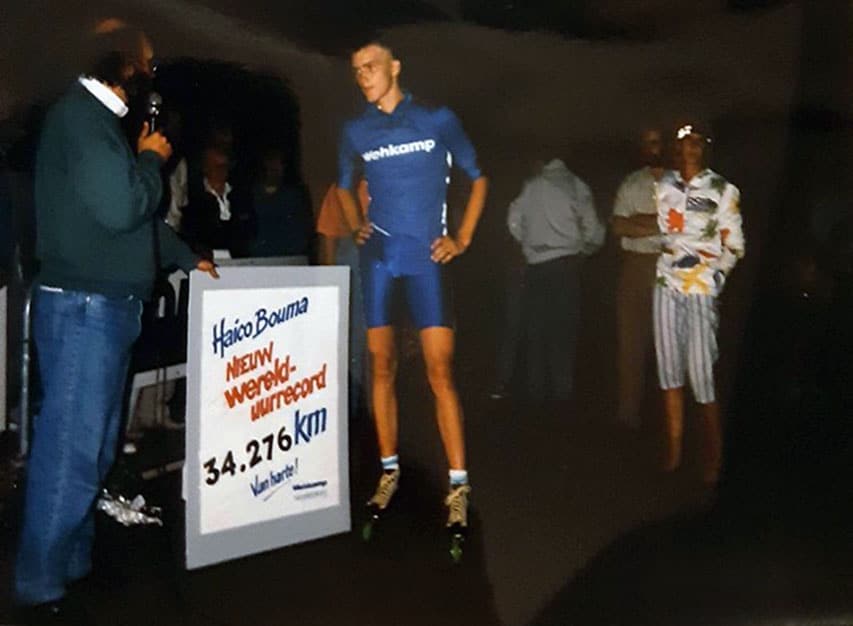 23 May 1998 : Tristan Loy in Landevant (France) – 35 km 811 m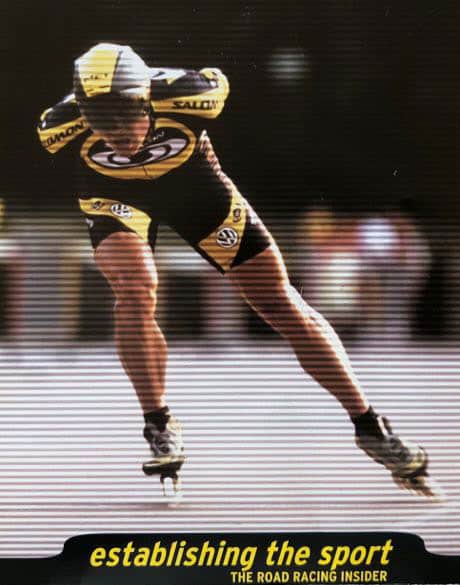 Tristan Loy joined the international Salomon team in 1997. At the same time, a road circuit was created in Landevant (56). Tristan tests him and finds that he is very fast.
The following year, he sets off in search of the one-hour record. He manages to knock it down.
16 August 2000: Tristan Loy re-offends in Grenoble (France) – 36 km 460 m 52 cm
Tristan is the last Frenchman to hold this record. This performance was achieved on the Olympic track in Grenoble. For his record, Tristan was using in 5×80 mm with a clap frame! It was equipment that Salomon wanted to highlight. The idea was to do everything with the brand's equipment.
"I made the record in August. From memory, it was quite stormy. There were races every weekend at the time, didn't have time to do anything else on the weekends, there were too many races. I had to attempt the record on a Wednesday, just before the Swiss Inline Cup stage in Biel. I think it's good that Felix is trying for the record on a 200m track. Plus, he's quite a customer. I'm glad that it's one of the best in the world who's going for it, plus a German on a German track! I know him a little bit, I coached him when I was coach of Germany. He's a great guy, I'm all behind him! A guy of that class, that's great, the record is really going to be worth something. It's a hard effort. You can't screw up at the beginning of the race, but he's got the mentality."

September 9, 2005: Frank Fiers (Belgium) breaks the one-hour record – 36 km 512 m 40 cm
Skater Frank Fiers was born on August 9, 1971 in Wetteren (Belgium). After several unsuccessful attempts, Frank Fiers finally conquers the title of the fastest man in the world over an hour on roller skates. His performance took place in the semi-covered ice rink of the Sportcentrum Kardinge in Groningen, in the north of the Netherlands. Barely 50 m better than Tristan Loy!
Hello Frank, what made you try to break the one-hour record?
I've always been interested and inspired by the concept of the hour record, not only in inline skating, but also in cycling. An athlete alone on the track, fighting against time. After Tristan Loy's record in 1998, I started testing on the track. Tristan, was skating in one of the greatest teams of the time: Salomon Inline. He inspired me and the fact that he broke the record inspired me to take up the challenge. The more I tested, the more I began to believe I could do it. When Tristan broke the record again in 2000, he improved it by 649 metres. It was really a great progression that raised the level of the challenge again…
However, I continued to train to achieve this goal. In 2002, I tried to beat it for the first time. I covered almost 36 km, 400 m less than Tristan's record. Even though I didn't break the record, I learned a lot during the preparations and during the attempt. I was confident that I could beat it by continuing to work hard. Three years later, I succeeded.
What is your best memory of that moment?
Realizing that no one has ever been faster than you are is an incredible feeling.
What was the hardest part?
After 50 minutes, I couldn't maintain my lap time. I had to do it to break Tristan's record. I lost 3 tenths of a second on each lap. And I had a very small lead on Tristan's record. With 4 minutes to go, I was only 2 seconds ahead of Tristan. I had never felt such pain in my legs before. Luckily I was able to keep up the pace for the last 4 minutes.
What kind of skates did you use?
Custom-made shoes made by Mariani with Fila 3×100 mm and 1×84 mm. I used Hyper Stripes wheels and ceramic bearings.
Do you have any advice for Felix Rijhnen?
Between the 45th and the 55th minute it becomes very difficult. The legs are burning. It's very important to keep focusing on technique and to keep faith, even when the pain is overwhelming.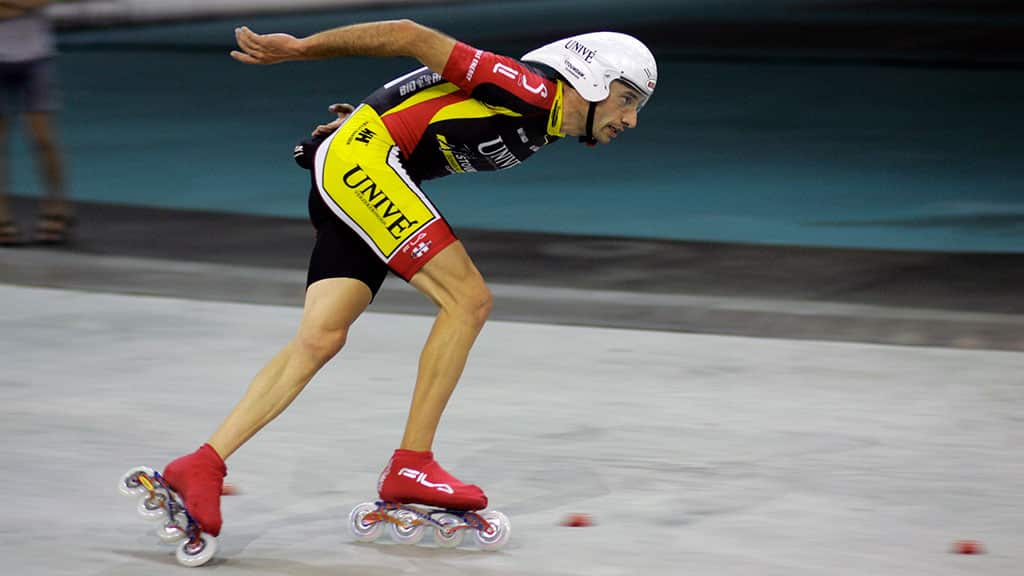 5 July 2020: 39,935 km for Felix Rijhnen in the Arena Geisingen (Germany)
The mark of 40 kilometers was very close! This will undoubtedly be the goal of the next athlete who will try to break the hour record. German speed skater Felix Rijhnen chose a 200m track for his hour record, a brave choice in terms of the number of corners and laps to be completed! He will start the record attempt on 3x125mm wheels.
For the anecdote: a record on the road
11 June 2005: Mauro Guenci achieves a record on open road with 38 km 632 m
The Italian Mauro Guenci is a fireman by trade. For the anectote, he covered the distance of 38.632 km on road in Senigallia, near Ancona, Italy. He chose a 1088.60 m circuit. The event took place on Roller Day with Team Roller Senigallia.
For purists, this type of record is a little less prestigious because the road courses are less homogeneous and less standardized. The skater tires less quickly because there are fewer turns to negotiate. The circuits can also have downhill runs and thus change the game.
Liens utiles
Un record italien de Mauro Guenci en 2005 cité dans le Guinness des records
Thanks to Pascal Briand
Tristan Loy, Frank Fiers and Xavier Penou
for the archives
Auteur
Traducteur
Laethisia SCHIMEK
''SCHIMEK''
Laethisia Schimek est une patineuse professionnelle de l'équipe Powerslide. Elle est spécialisée dans le sprint et plus particulièrement sur 100 m où elle a été médaillée à l'occasion des championnats du Monde. Laethisia est en charge des traductions anglaises et allemande de REL !